Kris Morningstar's 2015 Picnic Recipes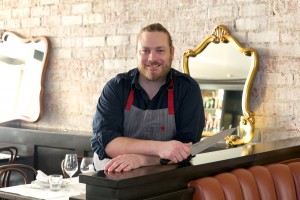 The warm-up to July 4th begins with a 30th anniversary screening of Back to the Future with live concert accompaniment by the Los Angeles Philharmonic Orchestra. The long weekend commences on Thursday with a dazzling display of fireworks that continues over three days along with the grooving tunes of the King of Motown, Smokey Robinson. Kris Morningstar, co-owner and executive chef of Terrine, is known for his adventurous and playful approach to contemporary cuisine. He can also turn it up in the kitchen.
"Music is a great inspiration in the kitchen, and we use it all the time to set the tone—sometimes we're in the mood for something upbeat like Hall and Oats, sometimes it's Flogging Molly for a little soul… and I love to rock out to Billy Idol! And then there are the days when we amp it up with Misfits and Bad Religion, especially when there is a lot to do." — Kris Morningstar
RECIPES
Serves 4
_____________________________________
INGREDIENTS


1 dozen large organic eggs
2 cups water
1 cup of white distilled vinegar
1 tablespoon salt
1/4 cup pickling spice
1 head garlic split in half
1 tablespoon turmeric
3 sprigs dill
_____________________________________
PROCEDURE
Cook the eggs by dropping into already boiling water and cook for 10 minutes and 30 seconds.  Remove from the water and immediately drop into ice water.  Cool for five minutes and peel.
Bring the remaining ingredients to a simmer and taste.  It should taste of dill pickles.  Adjust salt to taste.
Allow to cool to room temperature and pour over eggs.  Store in a glass or plastic container overnight.  The eggs will be ready to eat the next day.
COLD SPICY FRIED CHICKEN WITH SPICY SLAW
Serves 4


_____________________________________
INGREDIENTS
8 pieces chicken thighs (bone-in)
1 quart buttermilk
1 cup Franks RedHot Original
1 tablespoon cayenne
1/2 tablespoon old bay seasoning
1/2 tablespoon black pepper
1/2 tablespoon salt
PROCEDURE
Mix all ingredients and pour over the chicken legs.  Allow to marinate for 12-18 hours.
Remove from marinade; allow to drip off excess liquid and then immediately dredge in flour mixture.  Move to a plate or pan to hold.
Once all the legs are dredged in flour (recipe below) begin frying at 310 degrees F for about 10 minutes.  Do not over-crowd the fryer—you may want to do this in batches.  Alternatively, fry over medium heat in a deep cast iron pan filled halfway with canola or another neutral flavored oil.
COATING
1 cup Wondra flour
2 cups all purpose flour
1/4 cup thyme leaves, chopped
1 tablespoon old bay
1 tablespoon paprika
1/2 tablespoon black pepper
1/ tablespoon salt
1/2 tablespoon cayenne
Mix all the ingredients and then dredge chicken in the mixture.
_____________________________________
SPICY SLAW
DRESSING
1/2 cup rice vinegar
1 tablespoon sugar
1 1/4 cup salad oil
SLAW INGREDIENTS
1/2 half head red cabbage
1 cup shredded carrot
1/2 cup shaved green onion
1-2 jalapenos sliced
1 /2 bunch cliantro leaves chopped
1 /2 bunch mint (about 15 leaves)
1 tablespoon salt (or to taste)
Hollywood Bowl Programming
June 30-July 4
Back to the Future – in Concert 30th Anniversary
Power up your DeLorean, recharge your flux capacitor, and celebrate the 30th anniversary of the original Back to the Future as never before: in HD on the Bowl's big screen with the LA Phil performing Alan Silvestri's dazzling score live – with approximately 20 minutes of new music!
Tuesday, June 30 at 8:30 PM
BUY TICKETS
---
July 4th Fireworks Spectacular with Smokey Robinson
Patriotic music and the King of Motown, Smokey Robinson – plus our fabulous fireworks display – make this annual celebration a must-see affair!
Thursday, Friday and Saturday, July 2, 3 and 4 at 7:30 PM
BUY TICKETS