Ray Garcia 2015 Picnic Recipes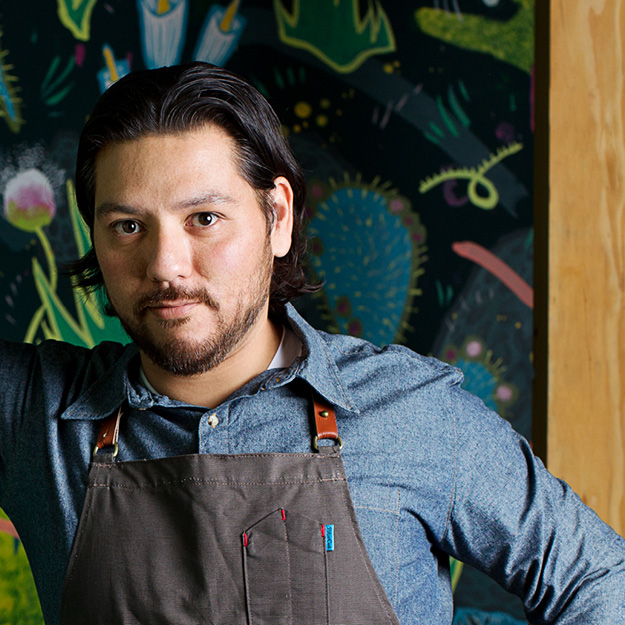 A great series of shows plays over this week, bookended by superstar conductor Gustavo Dudamel, who leads his first-ever Carmina Burana in Los Angeles; followed by a Tchaikovsky Spectacular complete with fireworks. Mid-week, The Count Basie Orchestra and guest stars gather for Frank Sinatra's 100th anniversary musical tribute. What an apt time to celebrate the career of chef Ray Garcia, best known as the creator of award-winning Fig Restaurant at the Fairmont Miramar Santa Monica, and chef/owner of Broken Spanish & BS Taqueria. 
"I have seen a number of concerts and performances at the Bowl.  It is a magical place where music, food, and friends come together for a truly memorable night.  The recipes provided are designed in this spirit." — Ray Garcia



figsantamonica.com

brokenspanish.com

bstaqueria.com
RECIPES
ENSALADA DE NOPALES (CACTUS SALAD)
Serves 4-6
_____________________________________
INGREDIENTS


3 nopales, cleaned, julienned
2 cups onion, white, julienned
5 chile serrano, cut in to 6 pieces
3 tablespoons canola oil
Water, as needed
½ cup onion, red, julienned
¼ cup cilantro, chopped
3  cups bean sprouts
1  cup vinaigrette (below)
VINAIGRETTE
¼ cups blended oil
1  cup black vinegar
3 chile serrano
6  garlic cloves
PROCEDURE
Put oil, nopales, white onion and serrano chiles in a large pot.
Add enough water to cover the nopales and cook on medium-high heat until the water has evaporated.
Continue to cook in the remaining oil until the nopales color slightly.  Remove from then heat and reserve.
To prepare the vinaigrette, sauté the garlic and serrano chiles until they are lightly caramelized.
Remove the chiles and garlic from the oil and let the oil cool.  Remove the seeds from the serranos and chop along with the garlic.
Add the garlic, serranos and black vinegar to the the warm oil.
Mix the vinaigrette well and pour over the nopales mixture while hot.
Once the nopales have cooled, toss in the bean sprouts, red onions and cilantro.
Adjust seasoning and cool.
Season to taste with lime juice.
Ideally allow to marinate for 3 hours before serving.
Serves 4-6
_____________________________________
INGREDIENTS
2 pounds strip loin (other cuts can be substituted if you prefer)
2 cups onion, white, julienned
5 chiles serrano
1 cup orange juice
1 cup lager
½ cup tamari
1 pound baby squash, quartered
2 cups corn kernels, cleaned
½ cups, crème fraiche
1 tablespoons parsley, chopped
2 tablespoons cilantro, chopped
1 tablespoons epazote, chopped
Lemon juice as needed
PROCEDURE
Cut the strip loin to desired steak size.
Mix the onions, serranos, orange juice, and beer in a bowl then pour over the steaks.  Allow the meat to marinate for at least 5 hours.
Remove the meat from the marinade.  Season with salt and pepper and grill until the desired temperature is reached.
Allow the steaks to come to room temperature then refrigerate for later service.
Heat large sauté pan over medium-high with 3 tablespoons of oil.  Season the squash with salt and add to the pan.
Cook the squash until caramelized but still al dente.  Add the corn kernels.  Sweat briefly then add 1 cup of water to the pan.  Allow the liquid to evaporate by 90%.  Remove from the heat and add in then crème fraiche and herbs. Season with salt and lemon juice.
Cool the squash and serve along side the steak when desired.
ARROZ CON LECHE (RICE PUDDING)
Serves 4-6
_____________________________________
INGREDIENTS
153 grams sweet rice
375 milliliters whole milk
50 grams granulated sugar
5 grams kosher salt
1 stick true cinnamon
1 vanilla bean
40 – 65 milliliters manufacturing cream
PROCEDURE
Put rice in a bowl, add water just to cover and soak overnight or at least 2 hours in advance.
Combine the milk, sugar, salt, cinnamon and vanilla bean in a pot and bring to a simmer. Reduce for 20 minutes or until slightly thicker and concentrated. This step can be done ahead of time, and the reduced milk can be stored in the refrigerator for up to a week. Just make sure to warm it up before adding to the warm cooked rice (see step 4).
Put the rice in a pot with 335 milliliters of water, cover with a lid and cook until tender, about 15 minutes. There should be almost no water by the time the rice is done but if liquid evaporates too rapidly while cooking and it looks dry, add more water.
Once the rice is done and while it's still warm add the reduce milk and cook for 5 minutes to combine. Transfer rice to a shallow pan and let it cool completely. Lay plastic wrap directly on it so it doesn't develop a skin.
Hollywood Bowl Programming
July 21-July 25
Carmina Burana with Dudamel

With the crashing of cymbals, the power of over a hundred voices and the sonority of orchestral brass and strings, Gustavo Dudamel leads his first ever Carmina Burana in Los Angeles! Orff's epic work, based on medieval poems about life, love, morals and drinking, is a summer highlight you won't want to miss.
Tuesday, July 21 at 8 PM

BUY TICKETS
Thursday, July 23 at 8 PM

BUY TICKETS
______________________________________________________________________________________________________
Sinatra's 100th Birthday Celebration

One of the most important music figures of the 20th century, "Old Blue Eyes," is honored on his hundredth birthday with a celebration of his classic recordings that featured The Count Basie Orchestra, Antonio Carlos Jobim, and others. The Count Basie Orchestra and outstanding guest stars gather for this musical tribute.
Wednesday, July 22 at 8 PM

BUY TICKETS
______________________________________________________________________________________________________
Tchaikovsky Spectacular with Fireworks

Music and Artistic Director Gustavo Dudamel joins the beloved annual tradition to celebrate a favorite composer – there are sure to be fireworks on-stage and above the Bowl for this spectacular weekend tradition!
Friday, July 24 at 8 PM
BUY TICKETS
Saturday, July 25 at 8 PM
BUY TICKETS