Suzanne Goin 2014 Picnic Recipes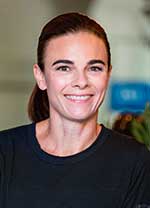 This week at the Bowl, some remarkable talent celebrates the life and career of James Brown, who was known as the "Hardest Working Man in Show Business." With three acclaimed restaurants, four culinary retail outlets, one wholesale bakery, two books, one chef/restaurateur husband, and three kids, featured chef Suzanne Goin has got to be the hardest working woman on the L.A. dining scene. She's also the most frequent contributor to the Hollywood Bowl Chef's Picnic Club, having been part of the program for each of its six years! Her recipes for this slice of summertime are adapted from her books, Sunday Suppers at Lucques and The A.O.C. Cookbook.
"My days are furious and busy with a million things to do and handle. But as soon as we settle down at the Hollywood Bowl with a bottle of wine and a picnic, all of my work thoughts just melt away. I love being under the stars, soothed by music on a summer night in Los Angeles."
—Suzanne Goin
RECIPES
Serves 6

_______________________________________________________________
INGREDIENTS
2-1/2 pounds ripe yellow tomatoes
3 Persian cucumbers, or 1 hothouse cucumber
1/2 jalapeño, seeded and cut in half
4 sprigs cilantro, plus 12 cilantro leaves
2 cloves garlic, coarsely chopped
2 tablespoons red wine vinegar
1/3 cup extra-virgin olive oil
3 tablespoons diced red or orange sweet pepper
3 tablespoons diced red onion
18 small cherry tomatoes, cut in half
Super-good extra-virgin olive oil, for drizzling
Kosher salt and freshly ground black pepper
_______________________________________________________________
PROCEDURE
1. Blanch the yellow tomatoes in boiling water for 30 seconds. Cool the tomatoes in a bowl of ice water a few minutes, and then use your fingers to slip off their skins. Remove the cores, and chop the tomatoes coarsely, saving all the juice. Reserve the ice water.
2. Seed and dice three tablespoons worth of unpeeled cucumber, as prettily as you can manage, for the garnish. Set aside. Peel and coarsely chop the remaining cucumbers.
3. You will need to make the soup in batches. Place half the yellow tomatoes, coarsely chopped cucumber, jalapeño, cilantro sprigs, garlic, vinegar, and olive oil in a blender with 1-1/2 teaspoons salt and some pepper. Process at the lowest speed until broken down. Turn the speed up to high, and purée until the soup is completely smooth. If the soup is too thick, add a little of the reserved ice water. Strain the soup and taste for seasoning. Repeat with the rest of the soup ingredients. Chill the soup in the refrigerator; it should be served very cold.
4. Toss the diced pepper, diced onion, and diced cucumber together in a small bowl.
_______________________________________________________________
PLATING
1. Pour the gazpacho into six chilled soup bowls, and scatter the pepper mixture over the soup.
2. Season the cherry tomatoes with salt and pepper and place three cherry tomato halves and two cilantro leaves at the center of each bowl.
3. Finish each soup with a drizzle of super-good olive oil.
_______________________________________________________________
CHEF'S NOTE: To serve family-style, place the soup in a chilled tureen or pretty pitcher and garnish with the tomato halves and cilantro; pass the diced vegetables on the side.
LAMB SKEWERS WITH FRENCH FETA SALSA VERDE
Serves 6
_______________________________________________________________
INGREDIENTS
6 branches rosemary (about 7-8 inches long)
2-1/2 pounds lamb sirloin
3 cloves garlic, smashed
1 tablespoon thyme leaves
2 teaspoons cracked black pepper
1/4 pound French feta cheese, crumbled
Salsa Verde (Recipe Follows)
1/2 lemon, for juicing
2 tablespoons extra-virgin olive oil
1 bunch dandelion or arugula, cleaned
Kosher salt and freshly ground black pepper
PROCEDURE
Remove all the rosemary leaves from the branches except 2 inches worth at the top of each. Cut the leafless end of the branch at an angle with a sharp knife to make a point (this will make it easier to skewer the lamb). Coarsely chop the rosemary leaves you removed from the branches.
Have your butcher cut the lamb into 1- to-1-1/2-inch-thick 2-ounce pieces. Season the lamb with 2 tablespoons chopped rosemary leaves, the smashed garlic, thyme, and cracked black pepper. Cover, and refrigerate at least 4 hours, preferably overnight.
Light the grill 30 to 40 minutes before cooking, and take the lamb out of the refrigerator so it comes to room temperature.
Make 6 skewers of lamb, about 6 ounces each onto each rosemary branch. The pieces on each skewer should be of similar thickness and not skewered too tightly or they will not cook evenly.
Stir the feta into the salsa verde. Taste for seasoning. It does not usually need salt but might need lemon and a pinch of pepper. Set aside.
When the coals are broken down, red, and glowing, brush the lamb skewers with olive oil, and season generously with salt. Place the lamb on the grill, and cook 3 minutes on each side, rotating the skewers a few times to get nice color, until they're medium-rare.
Scatter the dandelion greens over a large warm platter and arrange the skewers on top. Spoon some of the French feta salsa verde over the lamb, and serve the rest on the side.
_______________________________________________________________
SALSA VERDE
INGREDIENTS
1 teaspoon marjoram or oregano leaves
1/4 cup mint, coarsely chopped
1 cup flat leaf parsley, coarsely chopped
3/4 cup extra virgin olive oil
1 small clove garlic
1 salt-packed anchovy, rinsed, bones removed
1 tablespoon salt-packed capers, rinsed and drained
1/2 lemon for juicing
Freshly ground black pepper
PROCEDURE
Using a mortar and pestle, pound the herbs into a paste (you may have to do this in batches).
Work in some of the olive oil, and transfer the mixture to a bowl.
Pound the garlic and anchovy, and add them to the herbs.
Gently pound the capers until they're partially crushed, and add them to the herbs.
Stir in the remaining oil, a pinch of black pepper, and a squeeze of lemon juice.
Taste for balance and seasoning.
NECTARINE AND BLACKBERRY GALETTE
Serves 10-12
_______________________________________________________________
INGREDIENTS
4 ounces blanched almonds
1/2 cup confectioners' sugar
6 tablespoons unsalted butter, softened
2 tablespoons all purpose flour
1 tablespoon good quality brandy or rum
1 extra-large egg
1 extra-large egg yolk
3 yellow nectarines (about 1 pound)
4 tablespoons granulated sugar
2 tablespoons freshly squeezed orange juice
1 tablespoon freshly squeezed lemon juice
Galette/Crostata Dough (Recipe Below), chilled
1/2 pint blackberries
2 tablespoons heavy cream
PROCEDURE
In the bowl of a food processor fitted with a metal blade, combine the almonds and confectioners' sugar, and pulse four or five times, at about 2-second intervals, until the mixture resembles a coarse meal. Add the butter, flour, brandy, egg, and egg yolk, and blend until completely combined. This is the "almond cream."
Cut the nectarines in half, remove the pits, and then cut into 1/2-inch-thick slices. Toss the nectarine slices in a bowl with 3 tablespoons granulated sugar and the orange and lemon juices. Preheat the oven to 400°F.
Line a baking sheet with parchment paper. Roll the chilled dough out to a 14-inch circle about 1/8-inch thick, and place on the prepared baking sheet.
Spread the almond cream in an even layer from the center outward, leaving a 3 inch border of dough. Arrange half the nectarines on top, followed by half the blackberries, and then continue with the remaining nectarines and berries. Using your hands, carefully fold the 3 inch border of dough over the fruit in circular, overlapping folds. Freeze the galette for 15 minutes (this buttery crust is best when cooked from very cold).
Brush the dough with heavy cream, and sprinkle with the remaining tablespoon granulated sugar. Bake for 35 minutes, rotating the pan halfway through baking. Reduce the oven temperature to 350°F, and bake for another 10 minutes, until crust is golden and the fruits are cooked. Cut six wedges from the galette (the galette will yield twelve portions), and place them on six dessert plates. Serve with scoops of ice cream.
_______________________________________________________________
GALETTE/CROSTATA DOUGH
Makes 1 14-inch circle about 1/8-inch thick, enough for 1 galette/crostata
INGREDIENTS
2-1/4 cups all purpose flour
1 teaspoon kosher salt
1/4 cup sugar
1/2 pound (2 sticks) unsalted butter, cold and cubed
PROCEDURE
Place the flour, salt, and sugar in the bowl of a food processor fitted with a metal blade, and pulse to combine. Scatter cubed butter evenly over the flour mixture, and pulse four or five times, for about 2-second intervals, until the mixture resembles a coarse meal with visible chunks of butter.
With the blade spinning, pour 4 tablespoons ice water into the bowl, and stop processing as soon as the dough clumps. (There is a moment when the coarse meal begins to look like ricotta, and then it quickly comes together as a ball of dough.)
Shape the dough into a 1-inch-thick flat disk, wrap in plastic, and chill for at least 1 hour.
CHEF'S NOTE: Here's a variation: For a cornmeal galette/crostata dough, simply add 3 tablespoons finely ground cornmeal to the flour mixture.