Micah Wexler 2015 Picnic Recipes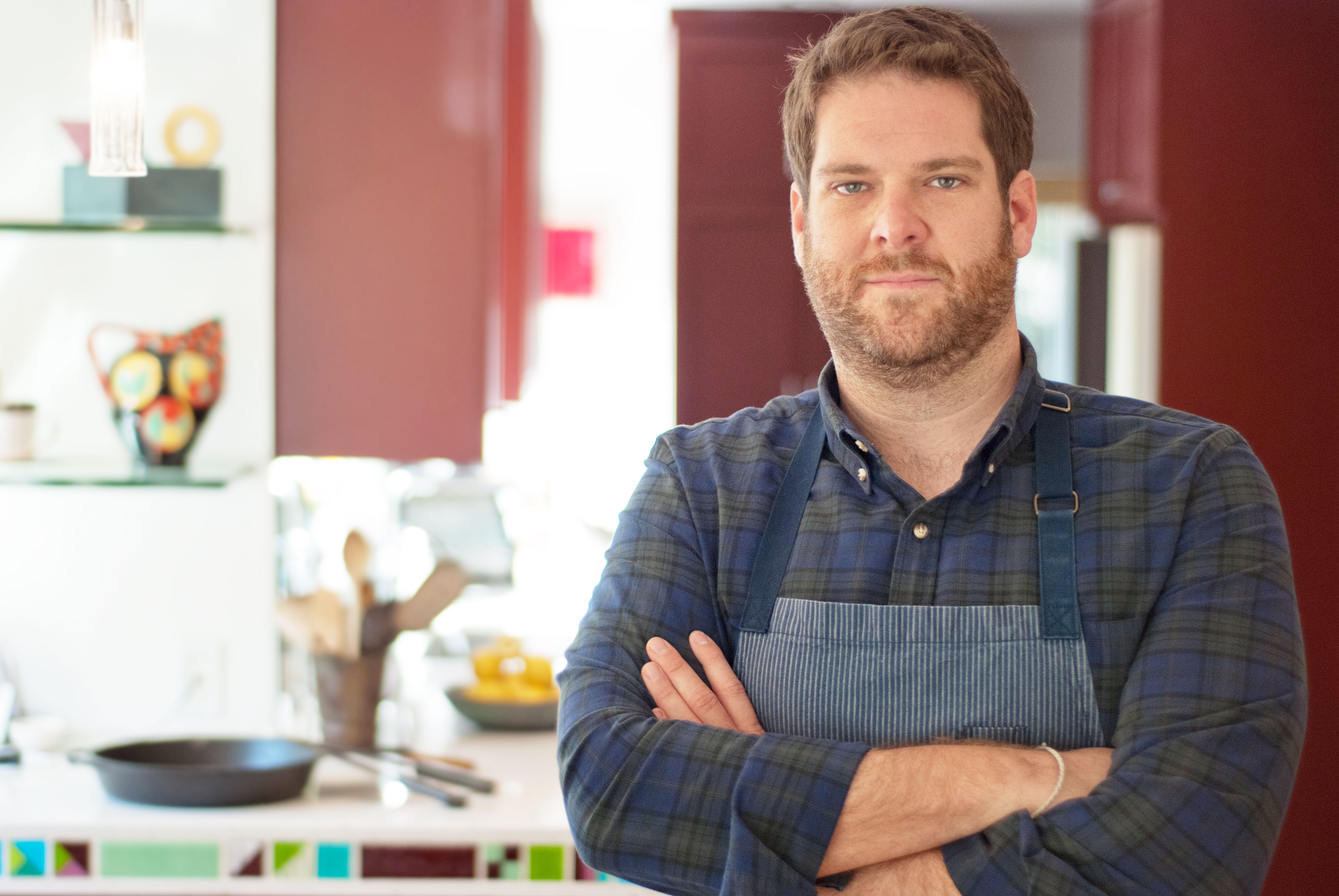 This week is a veritable bag of treats, with Stanley Kubrick's 2001 to be projected on the Bowl's big screen alongside a live soundtrack performance; Rock & Roll Hall of Fame legends Ann and Nancy Wilson of Heart set to electrify the Bowl with such sizzling riffs – "Crazy On You" and "Barracuda"; and Orquesta Buena Vista Social Club scheduled to grace the Bowl stage one last time. Micah Wexler of Wexler's Deli in downtown's top-rated Grand Central Market is a fan of the Cuban music legends.  
"I love music when I'm cooking. At Wexler's Deli we play music all day for our guests and staff. It helps create an environment and an energy that makes people want to hang around our space. We like to play the music we grew up with as well as the stuff we listen to now. On any given day we go from hip-hop to the Chili Peppers, Buena Vista Social Club to Madonna." — Micah Wexler
RECIPES
KING CRAB SALAD WITH TOBIKO AND MUSTARD VINAIGRETTE
Serves 4
INGREDIENTS
1 pound king crab meat, cleaned
½ cup fava beans, shelled
4 heads gem lettuce
1 avocado
2 tablespoons tobiko wasabi caviar
2 tablespoons whole grain mustard
3 tablespoons sherry vinegar
1 tablespoon water
6 tablespoons olive oil
_______________________________________
PROCEDURE
Cut crab into 1-inch chunks and set aside. Cut gem lettuce into quarters lengthwise. Cut avocado into chunks.
In a bowl combine mustard with vinegar and water. Whisk in olive oil to create a vinaigrette, season with salt and pepper. Gently mix in the tobiko.
Dress all ingredients except the crab in the vinaigrette and put on the plate, then dress the crab and place it on top of the salad.
GRILLED HANGER STEAK WITH RADISH SALAD, PECORINO AND ANCHOVY
Serves 4
INGREDIENTS
1.5 pounds hanger steak
2 shallots, sliced
3 sprigs mint
1 pound French breakfast radish with greens
¼ cup shaved pecorino
1 teaspoon minced anchovy
1 teaspoon minced garlic
3 tablespoons butter
3 tablespoons olive oil
½ teaspoon chili flake
_______________________________________
PROCEDURE
The night before, marinate steak with olive oil, shallot, mint.
In a saucepan over low heat, melt the butter and olive oil. Add anchovy, garlic, chili flake, and salt and let cook on very low heat for an hour.
On a mandoline shave radish, chop the radish tops and mix together with pecorino.
Remove steak from the marinade and grill until medium rare. Slice and sauce with half the garlic/anchovy sauce.
Dress the radish salad with the remaining anchovy sauce and plate over the steak.
PINEAPPLE BROWN BUTTER CAKE WITH WHIPPED CRÈME FRAICHE AND BASIL

Serves 4
INGREDIENTS
1 cup diced pineapple
2 cups pineapple juice
¾ cup brown butter
1 cup egg whites
½ cup all-purpose flour
½ cup almond flour
1 cup + 2 tablespoons sugar
pinch of salt
½ cup crème fraiche
1 vanilla bean
2 sprigs basil, chopped
PROCEDURE
In a pot, bring the pineapple juice to a boil, reduce heat to medium and simmer until reduced by 80% until it has a marmalade type consistency. Allow to cool
In a mixer, mix together both flours, sugar and salt. Slowly add the egg whites followed by the warm brown butter until it is all incorporated. Pour into a cake pan and bake convection 300 degrees until a toothpick comes out clean.
Whip the crème fraiche with the vanilla bean and the 2 tablespoons of sugar until it has the consistency of whipped cream.
Mix the diced pineapple with the basil and few tablespoons of the marmalade.
Cut slices of the cake when cool and top with marmalade, pineapple salad, and whipped crème fraiche.
Hollywood Bowl Programming
Aug 17 – Aug 23
A Live Presentation of 2001: A Space Odyssey
Recognized as one of the greatest works of science fiction cinema, Stanley Kubrick's 2001 is acclaimed for its technological realism, creative audacity and inspired use of music. Behold the film's visual grandeur on the Bowl's big screen while the soundtrack is performed live, including Strauss' Also sprach Zarathustra, music by György Ligeti, and the "Blue Danube" Waltz.
Tuesday, August 18 at 8 PM
BUY TICKETS
---
Orquesta Buena Vista Social Club | Diego El Cigala
Legends of Cuban music Orquesta Buena Vista Social Club graces the Bowl stage one last time. With celebrated original stars, the dynamic ensemble lends its elegance and passion to the best of son montuno, danzón, cha-cha, boleros, and more, plus material from Lost & Found, a new collection of unreleased recordings from the original Buena Vista Social Club sessions.
Wednesday, August 19 at 8 PM
BUY TICKETS
---
Bernstein & Bizet
After her phenomenal debut last summer – cited by The New Yorker's Alex Ross among his Ten Notable Performances of 2014 – LA Phil Assistant Conductor Mirga Gražinytė-Tyla returns to lead Bernstein's crackling masterwork for strings and percussion and an exotic instrumental reworking of Bizet's dramatic score.
Thursday, August 20 at 8 PM
BUY TICKETS
---
Heart
Rock & Roll Hall of Fame legends Ann and Nancy Wilson electrify the Bowl in these special concerts with orchestra. With sizzling riffs – "Crazy On You" and "Barracuda"– and massive anthems – "What About Love?" and "These Dreams" – Heart delivers the galloping guitars and inspired vocals of authentic rock and roll.
Friday, August 21 at 8 PM
BUY TICKETS
Saturday, August 22 at 8 PM
BUY TICKETS
---
Smooth Summer Jazz
The Bowl proudly presents our summer mini-festival of the finest smooth jazz artists. Make your plans now! Please note that doors open at 4:30pm for this concert.
Sunday, August 23 at 6 PM
BUY TICKETS