Akasha Richmond 2015 Picnic Recipes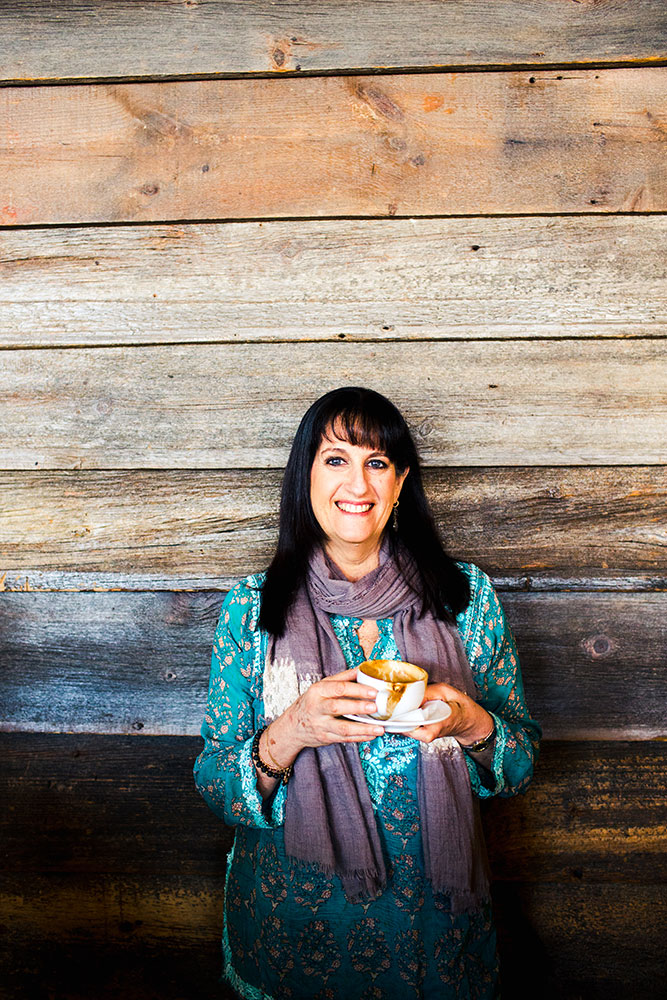 This week, we're treated to a trajectory of sounds: from Joshua Bell on the violin, to Tan Dun's movie music played to the scenes of spiritual films, to Bugs Bunny and his Looney Tunes pals teaming up with live orchestras for the official Bugs Bunny at the Symphony 25th Anniversary. Celebrity chef to the stars Akasha Richmond continues to build momentum with her innovative fare–she recently launched Indian-inspired Sāmbār right next door to her revered AKASHA restaurant in Culver City.
"I love music that makes you happy. I love to play Michael Jackson's music while cooking. It reminds me of all the fun times I had cooking for him, especially on tour. One of my favorite nights at the Bowl is the Bollywood night which I have been to a couple times!" — Akasha Richmond
akasharestaurant.com
sambarcc.com
RECIPES
GRILLED FIG, GOAT CHEESE & ARUGULA SALAD
Serves 4-6
INGREDIENTS — SALAD
⅓ cup pine nuts
1 tablespoon extra virgin olive oil
8 fresh figs, cut in half
1 tablespoon balsamic vinegar mixed with 2 teaspoons honey
4 ounces baby arugula
4 ounces goat cheese
INGREDIENTS — DRESSING
¾ cup pomegranate juice
¼ cup balsamic vinegar
2 tablespoons lemon juice
¼ cup extra virgin olive oil
1 tablespoon Dijon mustard
Salt & freshly ground black pepper, to taste
_______________________________________
PROCEDURE
Heat a cast iron skillet or heavy sauté pan over medium heat and toast the pine nuts until lightly browned and fragrant. Remove from the pan and let cool.
Heat the olive oil in the same pan or a grill pan over medium high heat. Grill the figs cut side down for 2 minutes. Add the vinegar-honey mixture and cook another 30-40 seconds, just until the figs caramelize.
To make the dressing, boil the pomegranate juice and vinegar in a one quart sauce pan for 5 to 7 minutes, or until thickened and reduced by a third.
In a small bowl, whisk the pomegranate reduction with the lemon juice, olive oil and mustard. Season with salt and pepper to taste.
Place figs on top of arugula, drizzle with dressing and top with the pine nuts.
PUMPKIN SEED CRUSTED WILD SALMON WITH WHITE PEACH SALSA
Serves 4-6
INGREDIENTS
2 tablespoons grape seed oil or butter
1 tablespoon finely grated ginger
½ teaspoon ground cumin
½ teaspoon ground turmeric
1 teaspoon ground coriander
1 teaspoon paprika
Four 6 ounce skinless wild salmon filets
Salt and freshly ground black pepper
½ cup toasted pumpkin seeds, ground
Lime wedges
INGREDIENTS — WHITE PEACH SALSA
2 white or yellow peaches cut into ¼ inch, dice
½ red bell pepper cut into ¼ inch, dice
1 Serrano chili, minced
½ cup red onion, finely diced
¼ cup fresh lime juice
2 tablespoons cilantro, chopped
½ teaspoon salt
_______________________________________
PROCEDURE — FOR THE FISH
Preheat oven to 375 degrees. Spray a baking sheet with oil or line with parchment.
Heat the oil or butter in a sauté pan over medium heat. Add the spices and cook for one minute. Turn off heat.
Season the fish filets with salt and pepper. Put the pumpkin seeds on a large plate or piece of parchment paper. Brush the filets on each side with the spice oil and dredge in the ground pumpkin seeds. At this point the fish can be refrigerated for 2 hours. Baked on the prepared baking sheet for 12 to 15 minutes, or until it flakes easily with a fork.
PROCEDURE — FOR THE SALAD
In a small bowl mix the peach, pepper, chili, onion, lime juice, cilantro and salt.
Serve with lime wedges on the side.
Hollywood Bowl Programming
Aug 3 – Aug 9
Hail, The Mighty Horn!
From the Merry Prankster in Strauss' famous tone poem to a quartet of soloists for Schumann, the horn can do it all. This evening features principal players from the LA Phil, the Berlin Philharmonic, and the London Symphony Orchestra as part of the International Horn Symposium's 2015 celebration.
Tuesday, August 4 at 8 PM
BUY TICKETS
---
Jamie Cullum | Soulive | Lisa Fischer
The playful rule-breaker returns to the Bowl with a big band, for everything from swinging standards to modern rock covers. Soul-organ trio Soulive deliver funky grooves. 20 Feet from Stardomvocalist Fischer opens.
Wednesday, August 5 at 8 PM
BUY TICKETS
---
Yundi plays with "Emperor"
Chinese pianist Yundi makes his long-awaited Hollywood Bowl debut performing Beethoven's beloved "Emperor" Concerto. James Gaffigan conducts the LA Phil in Shostakovich's dramatic Fifth Symphony, sure to reveal all the colors of the orchestra's impressive brass section.
Thursday, August 6 at 8 PM
BUY TICKETS
---
Sheryl Crow
Nine-time Grammy®-winning singer-songwriter Sheryl Crow performs with the Hollywood Bowl Orchestra for an evening of good-time hits and powerful ballads, from "All I Wanna Do" and "Soak up the Sun" to "Callin' Me When I'm Lonely." Latin Grammy®-winning Cuban-Canadian singer-songwriter Alex Cuba opens the evening.
Friday, August 7 at 8 PM
BUY TICKETS
Saturday, August 8 at 8 PM
BUY TICKETS
---
Verdi's La Traviata
Deeply moved by the tragic love story of The Lady of the Camellias, Verdi created the quintessential romantic, dramatic operas, full of melodies that pull at our heartstrings and won't let go. Imagine being under the stars, utterly captivated by the heartbreaking story of Violetta and Alfredo, sung by a world-class cast.
Sunday, August 9 at 7:30 PM
BUY TICKETS