Suzanne Goin 2016 Picnic Recipes
Suzanne Goin with Caroline Styne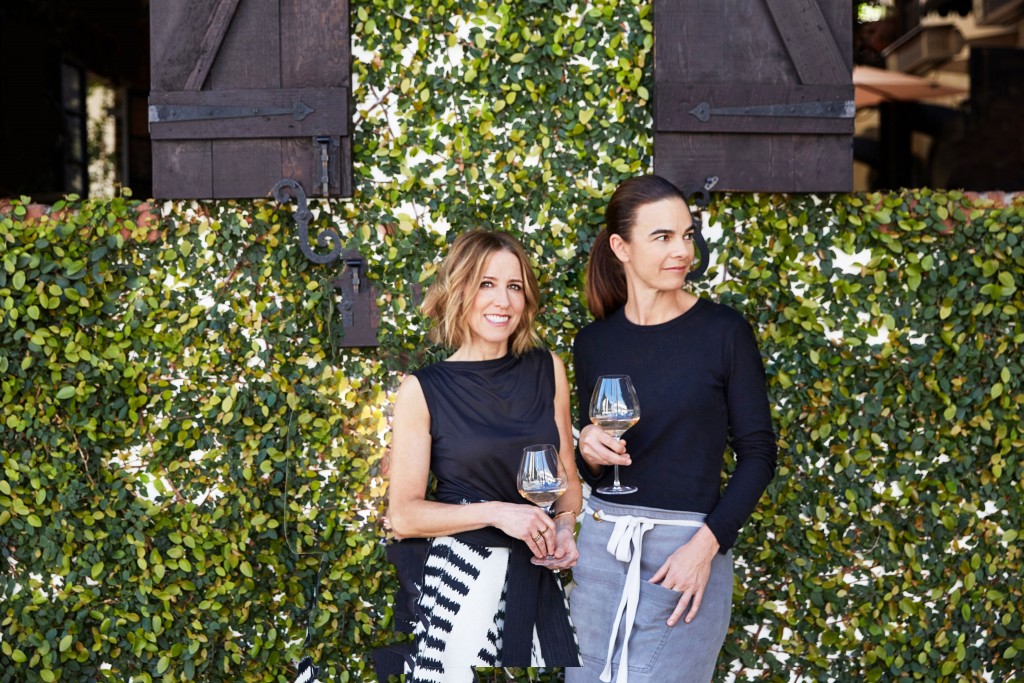 This week at the Bowl, celebrate Independence Day with legendary rock 'n' roll band, Chicago, concluding with a fireworks spectacular. Acclaimed L.A. chef Suzanne Goin—recent winner of the James Beard Foundation Award for Outstanding Chef—has been the most frequent contributor to the Chefs Picnic Club at the Hollywood Bowl. This season, her relationship with the Bowl becomes more formal as her company, The Lucques Group, assumes responsibility for food and beverage services at the iconic venue. Here Goin presents three recipes to enjoy while picnicking at the Bowl, and business partner/sommelier Caroline Styne provides valuable wine pairing recommendations.
"Growing up in L.A., the Hollywood Bowl has always been part of my life. As a child I went to concerts with my parents and now my husband David and I bring our own kids, continuing the tradition. This year will be another extension of the experience because I'll be spending a lot of time there working—and seeing other families dining on the menus I've designed for them to enjoy at one of my favorite places."—Suzanne Goin
"As a Los Angeles native, the Bowl is one of my favorite places for escaping the restaurant life for a few hours on a beautiful summer night. And now it's a place where I get to showcase my favorite wines and winemakers, and basically share my love of wine the Bowl's diverse audience."—Caroline Styne
RECIPES
CORN AND SUMMER SQUASH SALAD WITH AVOCADO, CHILE & LIME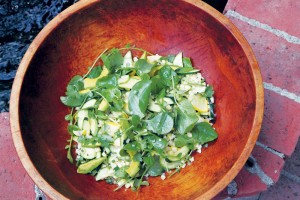 Photo credit: Shimon and Tamar Rothstein.
_____________________________________
Serves: 6
Level of Difficulty: Easy
Prep Time: 30 minutes
Cook Time: None
_____________________________________
INGREDIENTS


¾ cup plus 1 tablespoon extra virgin olive oil
¾ cup diced red onion
2 teaspoons thyme leaves
2 cups diced summer squash
3 cups fresh corn (from about 4 ears)
2 tablespoons finely diced shallots
2-3 tablespoons seeded, diced jalapeños
¼ cup lime juice
2 ripe avocados
¼ cup sliced spring onion
¼ cup chopped cilantro
1 bunch watercress, cleaned, tough stems removed
PROCEDURE
Heat a large sauté pan over medium heat for 2 minutes. Add 3 tablespoons olive oil, the onion and the thyme. Sauté about 1 minute, and then add the squash. Season with 1 teaspoon salt, and cook another 4 minutes or so, until the squash is tender and has a little color. Remove to a platter or baking sheet to cool.
Wipe the pan out with paper towels, return it to the stove, and heat over high for 2 minutes. Add 2 tablespoons olive oil, the corn, 1 teaspoon salt, and ¼ teaspoon pepper. Sauté quickly, tossing often, for about 2 minutes, until the corn is just tender. Remove to a platter or baking sheet to cool.
Combine the shallots, jalapeños, lime juice, and ½ teaspoon salt in a small bowl, and let sit 5 minutes. Whisk in ½ cup olive oil.
Slice the avocados into ¼-inch thick slices and season with salt and pepper.
PLATING RECOMMENDATION
Arrange half the salad on each of six plates. Layer in the wedges of avocado and then finish with the remaining corn salad.
_____________________________________
CHEFS NOTE
This salad is my pseudo-Mexican take on succotash. The dressing gives it a nice punch of acid and spice, while the avocado and cilantro take your palate on a trip to Baja. You can easily add grilled shrimp, chicken or crabmeat to make it a light summer supper.—Suzanne
SOMMELIER'S NOTE
The Southwestern influence of this dish makes me think about up-and-coming wines from New Mexico where the highest altitudes are producing outstanding wines. Try one of their Pinot Noirs which have a soft fruitiness as a result of their hot summer temperatures. Of course, these wines can be a bit hard to find, so as an alternate, look for a Pinot Noir from Sonoma Coast where the cool coastal climate leads to wines with spice and vibrant acidity.—Caroline 
GRILLED HANGER STEAK WITH ROQUEFORT BUTTER, CHERRY TOMATOES AND ARUGULA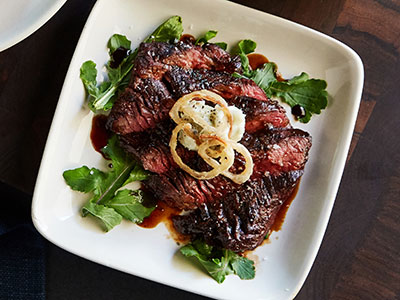 Photo credit: Dylan + Jeni
_____________________________________
Serves: 6
Level of Difficulty: Easy-Moderate
Prep Time: 15 minutes
Cook Time: 20 minutes
_____________________________________
INGREDIENTS
3 pounds hanger steak, trimmed
1 tablespoon thinly sliced chile de árbol
1 tablespoon cracked black pepper
1 tablespoon thyme leaves
2 tablespoons unsalted butter, softened
2 tablespoons crumbled Roquefort (or other quality blue cheese)
¼ cup extra virgin olive oil
1 pint cherry tomatoes, cut in half
½ lemon for juicing
1 tablespoon chopped parsley
1 tablespoon sliced opal basil
6 ounces cleaned arugula
Kosher salt and freshly ground black pepper
PROCEDURE
Season the hanger steak with the sliced chile, black pepper and thyme and let sit out at room temperature at least an hour before grilling.
In a small bowl, use a fork to mash the butter and Roquefort together until they are well combined. Set aside.
When you are ready to cook the meat, brush it lightly with 2 tablespoons olive oil and season with salt. Place the steak on the hottest part of the grill, to get a nice sear on the outside.
Cook about 3 minutes, turn the meat a quarter-turn, and cook another minute or two. Turn the meat over, and move it to a cooler spot on the grill. Cook another minute or two for medium rare. Rest the steaks on a wire rack set over a baking sheet.
In a small bowl, season the cherry tomatoes with salt and pepper and toss them with 2 tablespoons olive oil, a generous squeeze of lemon juice, the parsley and basil.
PLATING RECOMMENDATION
Scatter the arugula on a platter, slice the steak against the grain and lay the slices over the arugula. Top with dollops of the Roquefort butter and spoon the cherry tomatoes over the top.
_____________________________________
CHEF'S NOTE
Hanger steak is one of my favorite cuts—it has great meaty flavor and satisfying toothy chew. Always a favorite at A.O.C., it works just as well at room-temperature as it does right off the grill. Just remember to slice the meat against the grain—otherwise it can be super-chewy.—Suzanne

SOMMELIER'S NOTE
The steak in this recipe gets a big punch of flavor from the luscious Roquefort butter. For me, the ideal pairing is a dark, juicy Syrah from California's Central Coast. These wines are loaded with black fruit notes and aspects of meat and black pepper that are the perfect companion to this summertime picnic entrée.—Caroline
SUMMER SANTA ROSA PLUM CAKE WITH PLUM CARAMEL
Makes: One 9-inch cake
Level of Difficulty: Easy-Moderate
Prep Time: 30 minutes
Cook Time: 1½ hour
_____________________________________
INGREDIENTS
18 tablespoons (2¼ sticks) unsalted butter, softened at room temperature, plus a little for the pan
2¾ cups all-purpose flour
1 cup granulated sugar, plus 1 tablespoon for sprinkling
¼ cup semolina
1½ teaspoons baking powder
½ teaspoon baking soda
½ teaspoon kosher salt
1¼ cup crème fraîche
6 extra-large egg yolks
8 Santa Rosa (or other ripe) plums, about ¾ pound
Plum Caramel (See Recipe Below)
¾ cup heavy cream
PROCEDURE
Prepare a 9-inch round spring-form pan by spreading butter on the inside surfaces, lining the bottom with parchment paper, and buttering the parchment.
Combine the flour, 1 cup sugar, the semolina, the baking powder, the baking soda, and the salt in the bowl of a stand mixer fitted with a paddle attachment, and paddle just to combine. Add the butter and ½ cup crème fraîche and continue to paddle until the mixture starts to come together but is still crumbly. Add another ½ cup crème fraîche and the egg yolks and then increase the speed to medium-high, paddling until the color lightens to a uniformly pale yellow.
Preheat the oven to 375°F.
Cut 4 of the plums into ¾-inch wedges.
Spread half of the batter into the prepared cake pan. Drizzle 1/3 cup plum caramel over the batter and arrange half the plum wedges on top. Dot the remaining half of the batter on top of the arranged plums and caramel, and gently spread to cover the plums. Arrange the rest of the plum wedges on top and sprinkle with the remaining 1 tablespoon of sugar.
Bake 30 minutes, then reduce oven temperature to 350°F and bake another 30 minutes, until the cake begins to pull away from the sides of the pan and a toothpick inserted into the center comes out clean. The cake should be golden brown and spring back slightly when you touch the center. Cool the cake on a rack at least 15 minutes.
Using a stand mixer fitted with the whisk attachment, whip the cream and the remaining ¼ cup crème fraîche together to soft peaks. (You can also do this by hand.)
_____________________________________
PLUM CARAMEL
INGREDIENTS
¾ pound plums, about 8 to 10 depending on the fruit size
2 tablespoons brandy
1 tablespoons lemon juice
¾ cup granulated sugar
½ vanilla bean
PROCEDURE
Slice the plums into small wedges, discarding the pits. (Don't remove the skins.) Place the fruit in the blender with the brandy and lemon juice, and purée until very smooth.
Place the sugar in a medium saucepan. Split the vanilla bean in half lengthwise, and use a paring knife to scrape out the seeds and pulp into the sugar. Add the vanilla pod to the sugar with ½ cup water and bring to a boil over medium heat, without stirring.
Cook about 10 minutes, swirling the pan occasionally, until the mixture is a deep amber color. Slowly add the plum purée mixture, whisking constantly. (Chef's Note: If the plum purée mixture is added too quickly, the caramel can seize; keep whisking over medium heat and it will all come together again.) Continue cooking, until any sugar that has seized has dissolved. Turn off the heat and cool.
PLATING RECOMMENDATION

Serve slices of the plum cake with spoonfuls of plum caramel and dollops of the whipped crème fraîche.
_____________________________________
CHEF'S NOTE
Making the plum caramel is an extra step but it gives this Santa Rosa Plum Cake an extra burst of juiciness and acid. Use the ripest and most delicious plums you can find (they don't need to be Santa Rosa!) or even try this cake with apricots, nectarines or pears.—Suzanne

SOMMELIER'S NOTE
Sometimes it's too much to bring a dessert wine to a picnic, so in place of an off-dry wine, I recommend pairing this plummy cake with a Viognier from Santa Barbara or France's Rhône Valley. These wines show beautiful stone fruit notes and lively acidity that will meld seamlessly with this dessert while keeping things bright and fresh.—Caroline
Hollywood Bowl Programming
July 4-July 10
Carmina Burana with Dudamel

With the crashing of cymbals, the power of over a hundred voices and the sonority of orchestral brass and strings, Gustavo Dudamel leads his first ever Carmina Burana in Los Angeles! Orff's epic work, based on medieval poems about life, love, morals and drinking, is a summer highlight you won't want to miss.
Tuesday, July 21 at 8 PM

BUY TICKETS
Thursday, July 23 at 8 PM

BUY TICKETS
______________________________________________________________________________________________________
Sinatra's 100th Birthday Celebration

One of the most important music figures of the 20th century, "Old Blue Eyes," is honored on his hundredth birthday with a celebration of his classic recordings that featured The Count Basie Orchestra, Antonio Carlos Jobim, and others. The Count Basie Orchestra and outstanding guest stars gather for this musical tribute.
Wednesday, July 22 at 8 PM

BUY TICKETS
______________________________________________________________________________________________________
Tchaikovsky Spectacular with Fireworks

Music and Artistic Director Gustavo Dudamel joins the beloved annual tradition to celebrate a favorite composer – there are sure to be fireworks on-stage and above the Bowl for this spectacular weekend tradition!
Friday, July 24 at 8 PM
BUY TICKETS
Saturday, July 25 at 8 PM
BUY TICKETS