Tim Hollingsworth 2016 Picnic Recipes
Tim Hollingsworth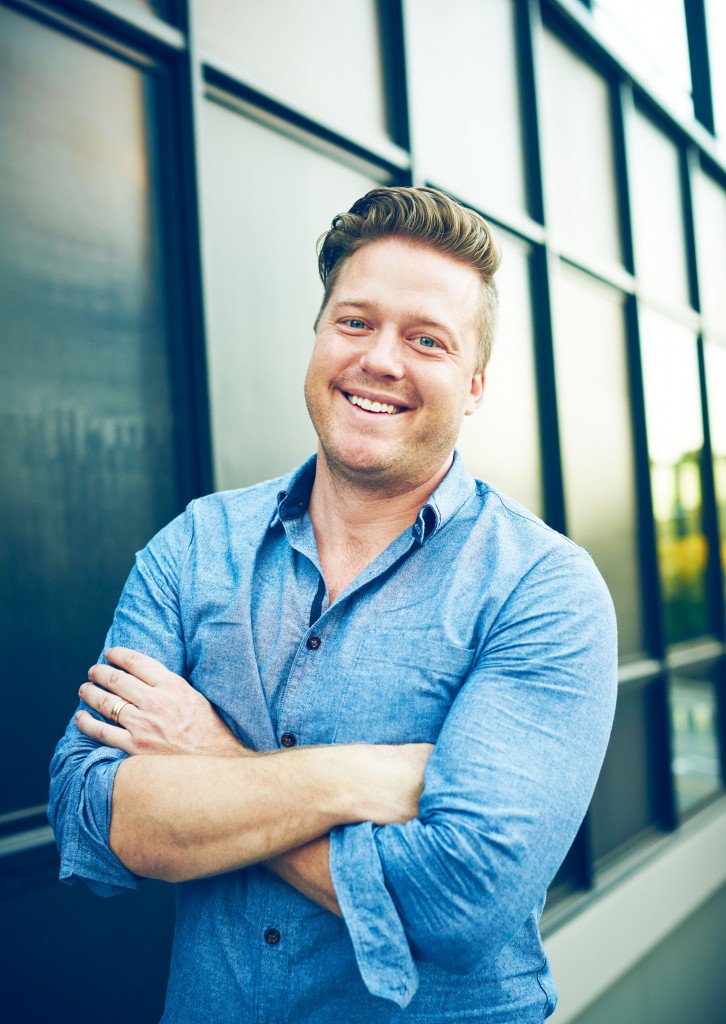 This week at the Hollywood Bowl, West Side Story takes to the venue's storied stage. One of the most exciting new stages on the local dining scene is downtown's Otium, where chef Timothy Hollingsworth works his magic with a sophisticated New American fare that complements the restaurant's stunning neighbor, The Broad. Some more down-to-earth expressions—inspired by his own childhood and reflected on the menu at his Valley restaurant Barrel & Ashes—are presented below.
"The Hollywood Bowl is quintessentially L.A. It brings together people of all types, hosting shows from music of all genres, and always remaining the perfect place to spend a summer night in L.A. The best part of going to the Bowl is being able to make your own experience out of it, whether that's ordering dinner at one of the boxes or putting together a quick picnic with friends and family." —Timothy Hollingsworth
RECIPES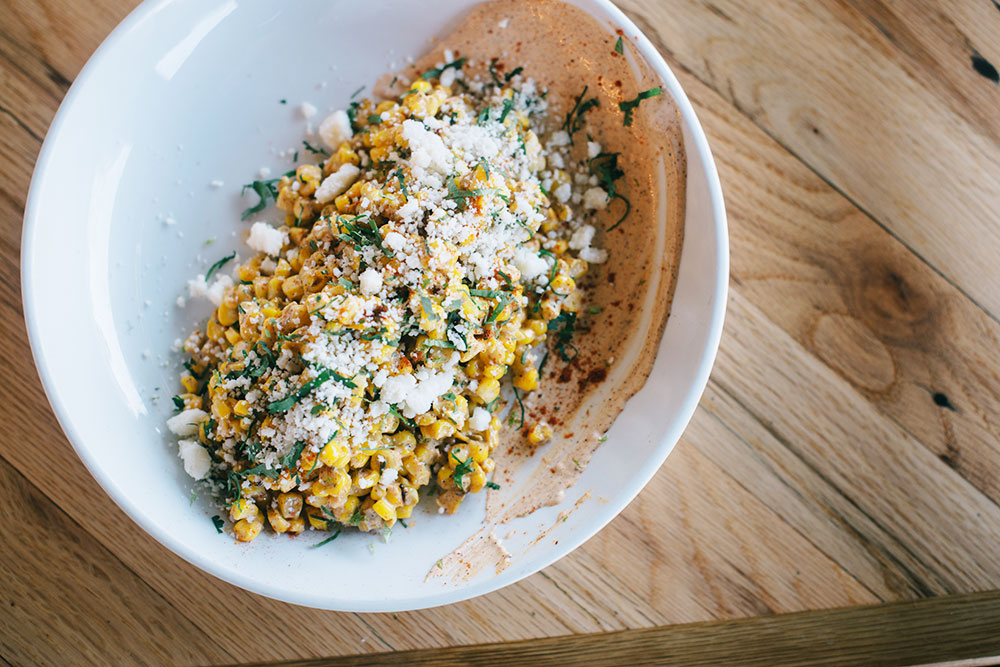 Photo credit: WINC
Serves: 6
Level of Difficulty: Easy
Prep Time: 15 minutes
Cook Time: 15 minutes
---
INGREDIENTS
6 ears of corn, husked
¼ cup crema Mexicana
1 teaspoon ancho or guajillo chili powder
2 cloves roasted garlic, smashed
½ cup cilantro, chopped
Juice of 1 lime
Zest of 1 lime
Salt, to taste
½ cup cotija cheese
PROCEDURE
Heat the barbecue to about medium-high.
Brush your grill top with oil and grill corn, turning occasionally. After about 10 minutes, corn should be cooked through and slightly charred on the outside.
Cut kernels off of the cob by standing corn cobs vertically, and slicing downwards.
Mix the grilled corn kernels with the remaining ingredients.
PLATING
Top with chopped cilantro and sprinkle with cotija cheese.
---
CHEF'S NOTE
One of my favorite things about this grilled corn salad is the flavors, a variation on elote, or Mexican street corn. Elote is one of my favorite things to eat…I just think that all the ingredients work so well together, so whenever I see someone selling it on the street it's really tough for me not to buy one. It can be hard to eat corn on the cob though, so I wanted to make a corn salad that used those great eloteflavors, but in a way that would be easier to eat and transport.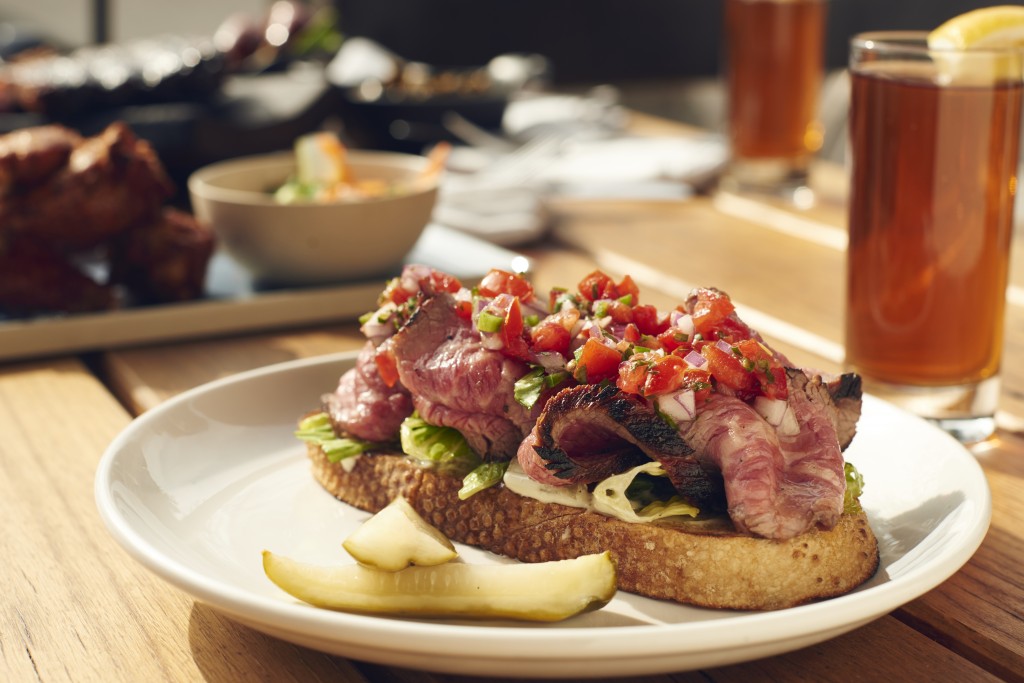 Photo credit: WINC
Serves: 6
Level of Difficulty: Easy
Prep Time: 20 minutes (not including time it would take for the tri-tip to sit in the marinade)
Cook Time: 30 minutes
---
MARINADE
INGREDIENTS
½ cup olive oil
1 onion, quartered
3 tablespoons garlic, chopped
1 bunch thyme, chopped
¼ cup balsamic vinegar
1 tablespoon onion powder
1 tablespoon garlic powder
¼ teaspoon cayenne pepper
¼ teaspoon red pepper flakes
Salt and pepper, to taste
PROCEDURE
Combine all ingredients in a large mixing bowl.
Cover the tri-tip with the marinating liquid, and let sit for 6 hours.
Season tri-tip with salt and pepper. Grill the meat to medium doneness, using herbs on the grill as desired.
---
ROSEMARY AIOLI
INGREDIENTS
2 egg yolks
1 tablespoon lemon juice
2 garlic cloves
1 cup olive oil
1 cup canola oil
1/3 cup fresh rosemary leaves, roughly chopped
Salt, to taste
PROCEDURE
Heat canola oil and rosemary over low heat, making sure not to let boil. Remove the infused oil from heat and let cool. Strain the oil.
Separate egg yolks.
Combine yolks, lemon juice and garlic in a medium sized bowl. Whisk until combined.
Slowly add in the olive oil and infused canola oil while continuously whisking. Season to taste.
---
PICO DE GALLO
INGREDIENTS
3 Roma tomatoes, sliced
1 jalapeño, diced
½ red onion, diced
½ bunch cilantro, cleaned and chopped
1-2 limes, juiced
Salt, to taste
PROCEDURE
In a medium size bowl, toss all ingredients with lime juice and salt.
---
SANTA MARIA TRI-TIP TARTINES
INGREDIENTS
Grilled and sliced whole tri-tip (1½-2 pounds)
1 heart of romaine lettuce
Sliced sourdough bread, cut ¾-inch thick
Rosemary aioli (per above recipe)
Pico de gallo (per above recipe)
PROCEDURE
Grill sourdough bread on both sides.
Evenly spread rosemary aioli on the grilled bread.
Arrange sliced tri-tip on the toasted and dressed bread. Arrange 2 leaves of lettuce over the tri-tip, and spoon pico de gallo into the romaine leaves.
Finish with salt and pepper.
---
CHEF'S NOTE
I grew up in a large family, and we didn't have a ton of money, so we never really had ribeye or New York steak very often. We would take a cheaper cut of meat like tri-tip and prepare it very well—that was like my family's version of steak. I have very fond memories of eating tri-tip for special occasions, birthdaysand holidays. This recipe breaks it down and sweetens it in a way that even though you may have to cook it more than medium-rare, you still get this great flavor and char because of the marinade.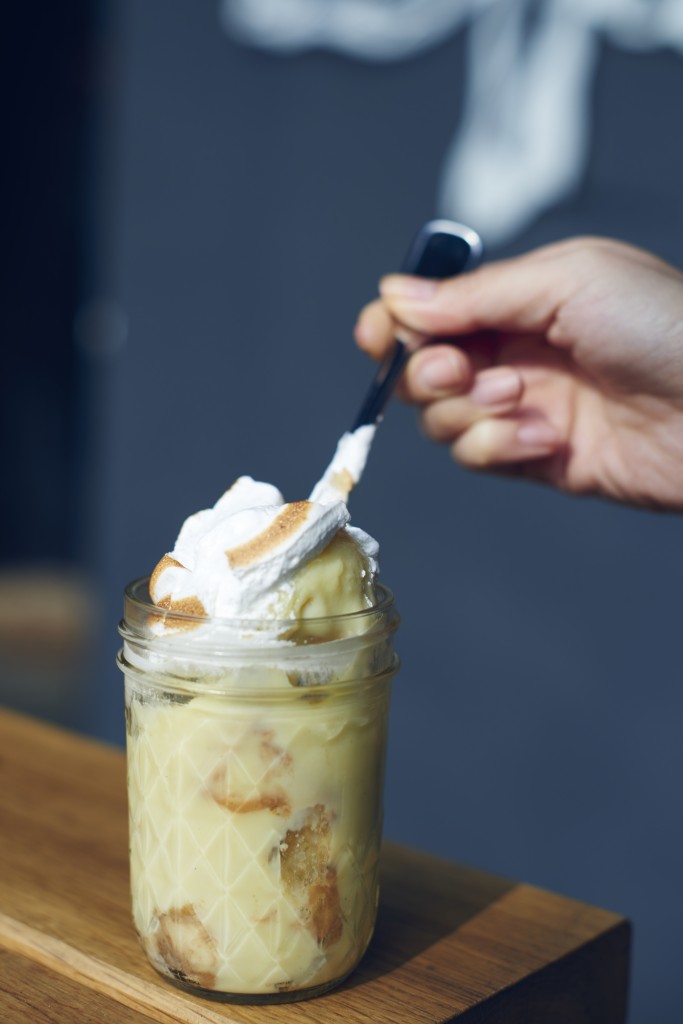 Photo credit: WINC
Serves: 6-8
Level of Difficulty: Medium
Prep Time: 15 minutes
Cook Time: 30 minutes
---
INGREDIENTS
2 cups milk
1 cup sugar
1/3 cup flour
1/3 cup sugar
1 pinch salt
1 teaspoon vanilla paste
3 egg yolks
1 box of vanilla wafers
3-4 ripe bananas, sliced
PROCEDURE
Place milk and first portion of sugar in a saucepan. Cook on medium heat, stirring often until little bubbles begin to form.
Combine the flour, sugar, and salt into a mixing bowl.
Add the egg yolks into the dry ingredients and whisk until combined.
Temper the hot milk mixture into the yolk mixture by adding a small amount of the hot milk mixture into the mixing bowl.
Add the tempered yolk mixture into the saucepan and cook for 2 more minutes.
Cool in an ice bath or refrigerator and stir in the vanilla paste.
Let the pudding cool and set.
Place a thin layer of pudding on the bottom of a serving bowl. Top with a layer of vanilla wafers, and then with a layer of sliced bananas. Alternate layers of pudding, wafers, and bananas. Place in refrigerator until pudding is set and it's time to serve.
Top with desired topping: whipped cream, Cool Whip or meringue.
PLATING
To make individual banana puddings, layer ingredients in mason jars rather than in a big bowl. Personal jar banana puddings would definitely work well at the Bowl.
---
CHEF'S NOTE
This banana pudding is my grandma's recipe. She actually adapted it from a recipe printed on the back of a vanilla wafer box, changing it to her liking and style. She then taught this recipe to my mom, who would make it for us growing up. It's something that we would take on picnics or to barbecues, and everyone loved it.
Hollywood Bowl Line Up
July 10-July 16
Brian Wilson performs Pet Sounds
Brian Wilson, the Beach Boys' co-founder and genius behind the '60s sound of America, returns to the Hollywood Bowl stage for the 50th anniversary of Pet Sounds.
Sunday, July 10 at 7 PM
BUY TICKETS
---
Dudamel & Lang Lang
Gustavo Dudamel launches the Bowl's classical season with the passionate glories of Tchaikovsky – joined by superstar pianist Lang Lang – and the Russian drama of Rimsky-Korsakov.
Tuesday, July 12 at 8 PM
BUY TICKETS
---
West Side Story
In a concert performance conducted by Gustavo Dudamel, this poignant, provocative and emotionally powerful musical takes us back to the mid-1950s and New York's Upper West Side, where racial and social tensions run high.
Thursday, July 14 at 8 PM
BUY TICKETS
Tuesday, July 19 at 8 PM
BUY TICKETS
---
Diana Ross
With her soulful voice and nonstop glamour, magnetic Motown legend Diana Ross returns to the Bowl, performing hits like "Stop! In the Name of Love," "Ain't No Mountain High Enough" and "I'm Coming Out."
Friday, July 15 at 8 PM
BUY TICKETS
Saturday, July 16 at 8 PM
BUY TICKETS