Tony Ensault Picnic Recipes
Tony Ensault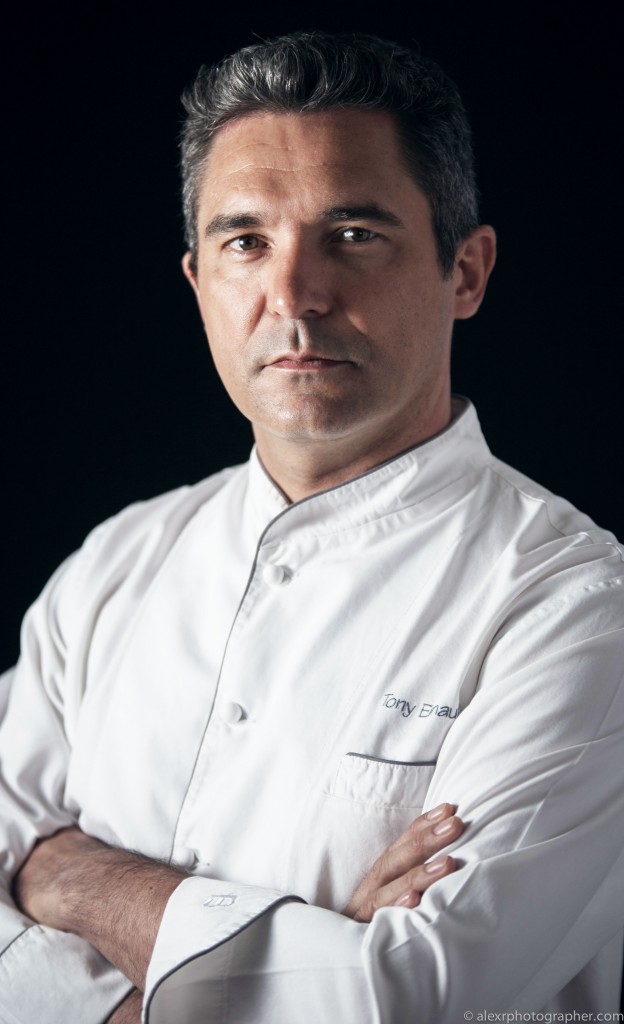 French-born Chef Tony Esnault, who began polishing his skills in Michelin-starred kitchens at an early age, has fully adapted to the laid-back L.A. lifestyle and rewards Angeleno diners at two exceptional downtown restaurants. At Church & State, he offers traditional bistro fare in a bustling, casual setting in the Arts District, and at Spring he turns out a sophisticated menu in a soaring glass-topped courtyard that is elegantly approachable. And here, for a week when A Chorus Line takes the stage at the Hollywood Bowl, the chef provides some South of France-inspired recipes ideal for a picnic.
"While I do not listen to music at the restaurant, I am fond of turning on classical or jazz when cooking at home. I love the flow of creativity found in those two genres, the hills and planes in the scores provide inspiration to pour emotion into whatever I may be creating—not something I usually find in the thump, thump, monotone sounds of house music, for example. Beyond the creative flow, I truly value and respect music as simply a discipline, much like cooking."—Tony Ensault
RECIPES
Makes: 24 puffs
Level of Difficulty: Moderate
Prep Time: 15 minutes
Cook Time: 20 minutes
INGREDIENTS
8 tablespoons unsalted butter, cubed, plus more for greasing the sheets
½ cup milk, plus more for brushing
1 teaspoon fine sea salt
1 cup all-purpose flour
4 large eggs
20 oil-packed anchovy fillets, drained and very finely minced (or 8 teaspoons anchovy paste)
½ cup grated Parmigiano-Reggiano
¼ teaspoon freshly ground pepper
PROCEDURE
Preheat the oven to 400°F. Lightly grease two rimmed baking sheets.
Bring the butter, milk and salt to a boil in a medium saucepan over medium-high heat and stir in the flour using a wooden spoon. Return the pan to the heat and beat the dough vigorously with the spoon until it's smooth and glossy and pulls away from the sides of the pan, about 1 minute. Set aside to cool for two or three minutes.
Beat in the eggs one at a time, making sure that each is completely incorporated before adding the next, stirring vigorously. Add the anchovies, about two-thirds of the cheese, and the pepper, along with the last egg.  Stir well to combine.
Transfer the dough to a pastry bag with a ½-inch round tip. Squeeze out dollops of dough, about one inch in diameter, onto the prepared baking sheets, spacing them at least 1 inch apart. Brush lightly with milk and sprinkle with the remaining cheese. Bake until puffy and golden, about 20 minutes.
Cool, then package the puffs in a container for transport.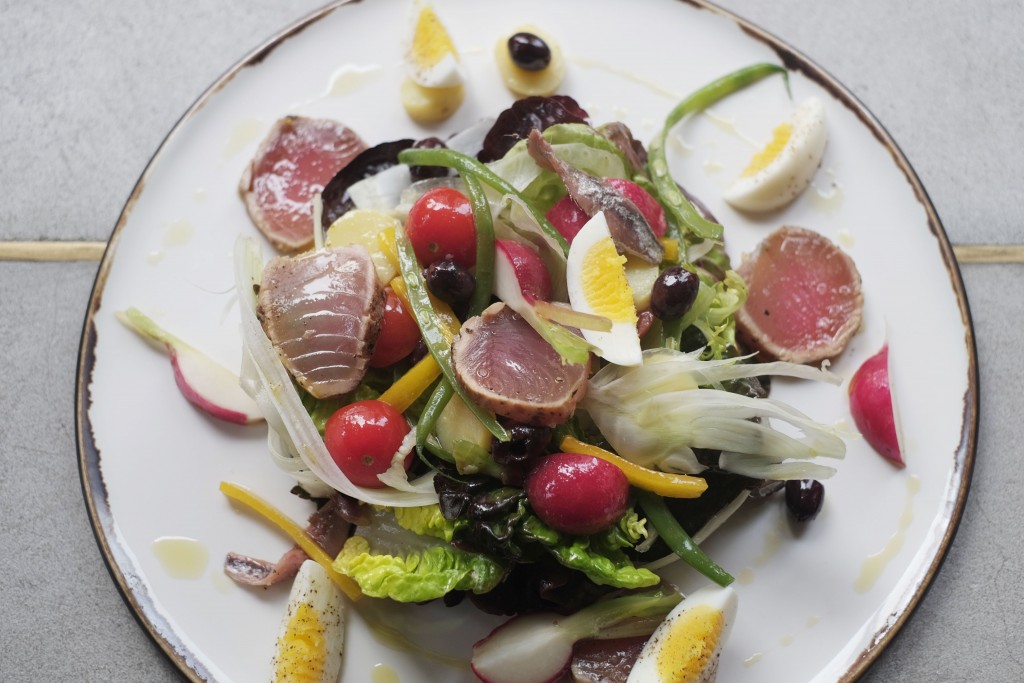 Serves: 4 to 6
Level of Difficulty: Easy
Total Prep: 15 minutes
Cook Time: None
SALAD INGREDIENTS
1 pound fingerling potatoes
8 ounces green beans (haricot vert), trimmed
8 ounces multicolored cherry tomatoes, halved
1 large cucumber, quartered lengthwise and cut into bite-size pieces
1 bunch radishes, trimmed and quartered
4 eggs, hard-cooked, peeled and quartered
½ cup Niçoise olives, drained
12 fresh basil leaves
Two 4-ounce tins albacore tuna packed in olive oil
VINAIGRETTE INGREDIENTS
1 large shallot, minced
2 garlic cloves, minced
⅔ cup fresh lemon juice
1 tablespoon Dijon mustard
1 teaspoon fine sea salt
½ teaspoon freshly ground pepper
PROCEDURE
Put the potatoes in a medium saucepan, add water to cover and season with salt. Bring to a boil over high heat, then reduce to simmer until the potatoes are tender when pierced with a small knife, about 20 minutes. Drain in a colander and set aside to dry and cool, then peel and cut in slices.
Meanwhile, fill a small saucepan with water, season it generously with salt, and bring it to a boil over high heat. Add the beans and cook until tender, about 4 minutes. Drain and cool down in ice water, then dry the beans in a kitchen tower.
For the vinaigrette: Put all the ingredients in an 8-ounce mason jar with a tight-fitting lid and shake vigorously to emulsify. Taste and adjust seasoning.
PLATING SUGGESTION
Pack the potatoes, beans, tomatoes, cucumber, radishes, eggs, olives, and basil in separate containers. At the Hollywood Bowl, arrange all the components of the salad, side-by-side on a large platter, keeping them separate. Tear the basil leaves into pieces and scatter them over the top of the salad. Open the tins of tuna and nestle them on the platter. Serve the vinaigrette on the side.
Serves: 10-12
INGREDIENTS
4 ounces blanched almonds
1/2 cup confectioners' sugar
6 tablespoons unsalted butter, softened
2 tablespoons all purpose flour
1 tablespoon good quality brandy or rum
1 extra-large egg
1 extra-large egg yolk
3 yellow nectarines (about 1 pound)
4 tablespoons granulated sugar
2 tablespoons freshly squeezed orange juice
1 tablespoon freshly squeezed lemon juice
Galette/Crostata Dough (Recipe Below), chilled
1/2 pint blackberries
2 tablespoons heavy cream
PROCEDURE
In the bowl of a food processor fitted with a metal blade, combine the almonds and confectioners' sugar, and pulse four or five times, at about 2-second intervals, until the mixture resembles a coarse meal. Add the butter, flour, brandy, egg, and egg yolk, and blend until completely combined. This is the "almond cream."
Cut the nectarines in half, remove the pits, and then cut into 1/2-inch-thick slices. Toss the nectarine slices in a bowl with 3 tablespoons granulated sugar and the orange and lemon juices. Preheat the oven to 400°F.
Line a baking sheet with parchment paper. Roll the chilled dough out to a 14-inch circle about 1/8-inch thick, and place on the prepared baking sheet.
Spread the almond cream in an even layer from the center outward, leaving a 3-inch border of dough. Arrange half the nectarines on top, followed by half the blackberries, and then continue with the remaining nectarines and berries. Using your hands, carefully fold the 3-inch border of dough over the fruit in circular, overlapping folds. Freeze the galette for 15 minutes (this buttery crust is best when cooked from very cold).
Brush the dough with heavy cream, and sprinkle with the remaining tablespoon granulated sugar. Bake for 35 minutes, rotating the pan halfway through baking. Reduce the oven temperature to 350°F, and bake for another 10 minutes, until crust is golden and the fruits are cooked. Cut six wedges from the galette (the galette will yield twelve portions), and place them on six dessert plates. Serve with scoops of ice cream.
---
GALETTE/CROSTATA DOUGH
Makes: 1 14-inch circle about 1/8-inch thick, enough for 1 galette/crostata
INGREDIENTS
2-1/4 cups all-purpose flour
1 teaspoon kosher salt
1/4 cup sugar
1/2 pound (2 sticks) unsalted butter, cold and cubed
PROCEDURE
Place the flour, salt, and sugar in the bowl of a food processor fitted with a metal blade, and pulse to combine. Scatter cubed butter evenly over the flour mixture, and pulse four or five times, for about 2-second intervals, until the mixture resembles a coarse meal with visible chunks of butter.
With the blade spinning, pour 4 tablespoons ice water into the bowl, and stop processing as soon as the dough clumps. (There is a moment when the coarse meal begins to look like ricotta, and then it quickly comes together as a ball of dough.)
Shape the dough into a 1-inch-thick flat disk, wrap in plastic, and chill for at least 1 hour.
Hollywood Bowl Line Up
July 24-July 30
Tosca
In a concert performance, Gustavo Dudamel probes the intense drama of Tosca, where idealistic art challenges corrupt politics in extravagantly expressive music.
Sunday, July 24 at 7:30 PM
BUY TICKETS
---
Mirga Conducts Beethoven & Ravel
Exhilarating power and sensuous grace meet when the LA Phil's charismatic Associate Conductor pairs Beethoven and Ravel.
Tuesday, July 26 at 8 PM
BUY TICKETS
---
Copland & Marsalis
A rising star is featured in a major new work by Wynton Marsalis, which draws on a rich, eclectic palette (orchestral, folk, jazz, blues, etc.) reflecting our country's melting pot, in this vivid and stirring all-American program.
Thursday, July 28 at 8 PM
BUY TICKETS
---
A Chorus LIne
The groundbreaking show about life as a dancer auditioning for a Broadway musical, with its unforgettable score and riveting real-life story, is our annual, fully staged production.
Friday, July 29 at 8 PM
BUY TICKETS
Saturday, July 30 at 8 PM
BUY TICKETS
Sunday, July 31 at 7:30 PM
BUY TICKETS