Bryant Ng Picnic Recipes
Bryant Ng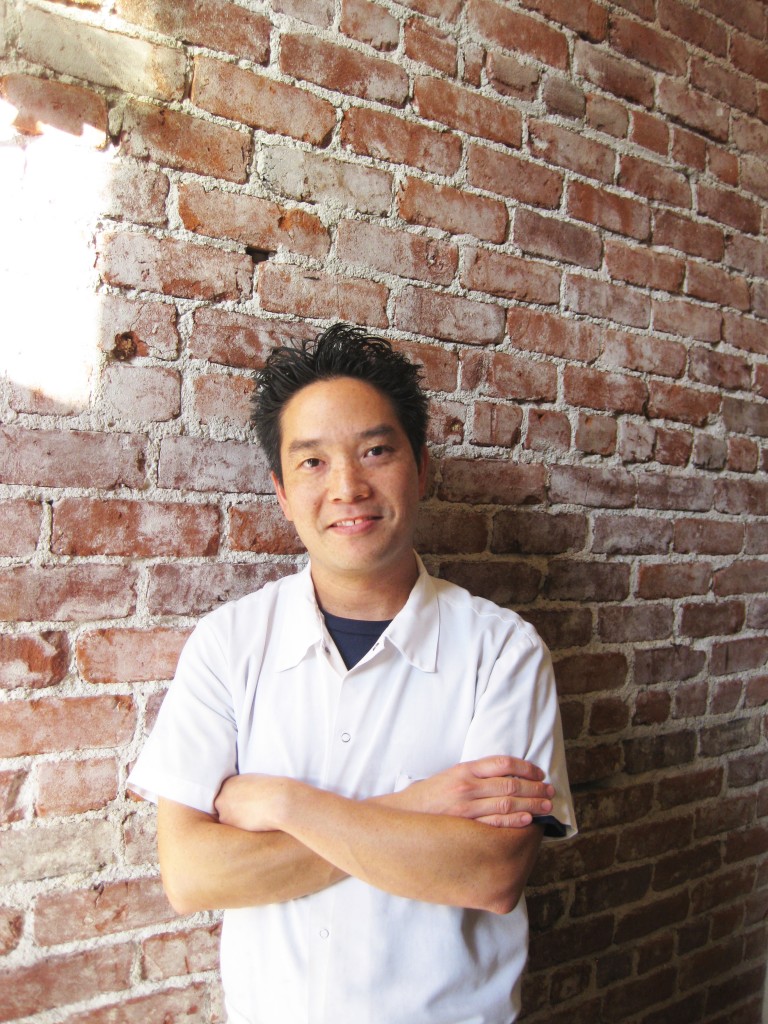 Every season of the Hollywood Bowl celebrates the incredible, wide-ranging diversity of the world of music, which is also reflected in the sights, sounds and tastes of L.A. This week, when Wierd Al Takes the Bowl, we feature the recipes of native Angeleno Bryant Ng, a passionate young chef whose multicultural family and travels have inspired him in the kitchen. His introduction of Southeast Asian influences to a French brasserie menu has made Santa Monica's Cassia one of the hottest tables in town, and now Chef Ng shares some recipes you can master at home.
"As a Los Angeles native, I have many memories of the Hollywood Bowl, most involving the sharing of food and drink with friends, family, and complete strangers. There are few music venues in the world that combine that experience with the outdoors. At the restaurant, I love playing music in my kitchen while we prep for service. There's nothing like a fun, jovial environment with people cooking fun, festive food." —Bryant Ng
RECIPES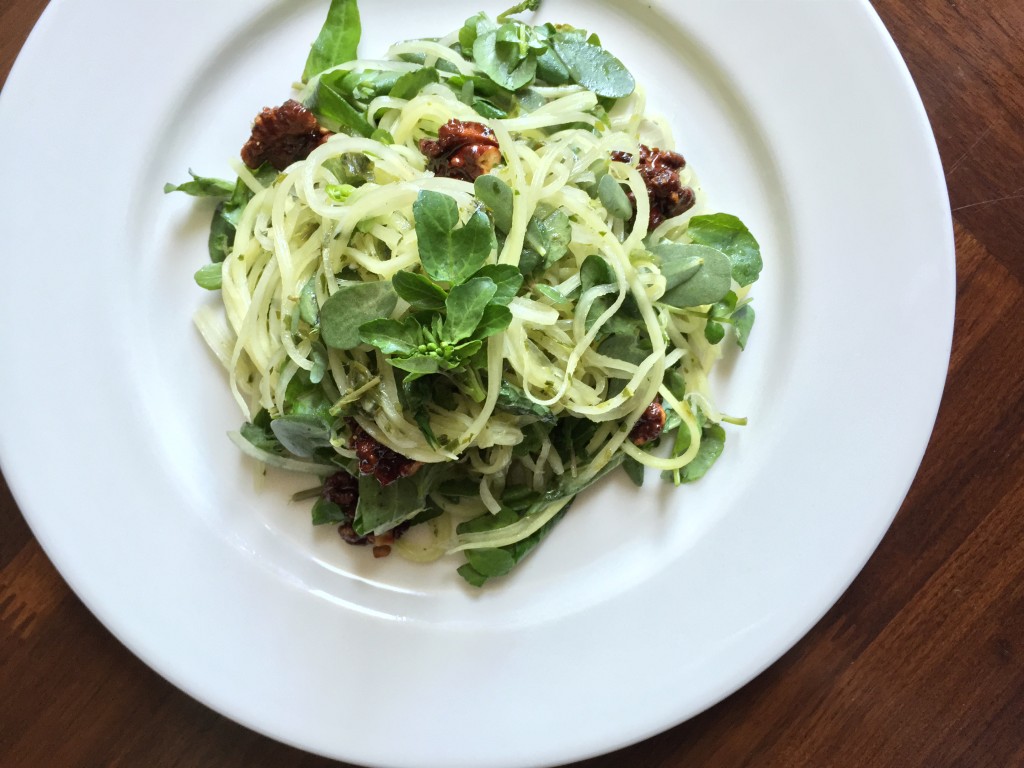 Serves: 4
Level of Difficulty: Easy
Prep Time: 30 minutes
Cook Time: 1 hour (for walnuts)
CHEF'S NOTE
The papaya salad was inspired by a light, refreshing salad we used to eat in Vietnam. The beauty of the dish is its simplicity and balance of flavors and textures. The green papaya has a nice satisfying crunch, seasoned with the slightly sweet and tangy dressing. The herbs lend a light freshness and the spiced walnuts add great texture and unexpected spiciness. It's a great start to whet your appetite for the next dish.
---
SALAD INGREDIENTS
1 cup green papaya, shredded (use a vegetable peeler to peel slices off, then use a knife to cut into strips)
½ sweet onion, thinly sliced
4 small bunches watercress, hard stems removed
¼ cup mint, leaves picked
1 cup spiced walnuts (see recipe below or purchased at the market)
1 lime, for juice
½ cup herb vinaigrette (see recipe below)
PROCEDURE
In a bowl, combine shredded papaya, onions, some vinaigrette, salt, and a squeeze of lime juice. Toss.
Add the watercress, mint, and other greens (if using). Lightly toss so that the greens do not wilt too much.
Layer salad on a plate with walnuts.
Drizzle with a little more vinaigrette over the top.
---
VINAIGRETTE INGREDIENTS
1 garlic clove, minced
¼ cup honey
½ cup lime juice
⅓ cup canola oil
1 bunch mint, rough-chopped
1 bunch scallions, rough-chopped
PROCEDURE
Combine herbs, lime juice, garlic in a blender. Purée.
In a bowl, combine and purée remainder of ingredients. The dressing should taste balanced with acidity and sweetness.
---
SPICED WALNUT INGREDIENTS
2 cups walnuts, whole
2 cups water
2 cups sugar
1 teaspoon chile powder
PROCEDURE
Combine water, sugar, chile in a pot. Bring to a boil.
Add walnuts.
Cook until the liquid has a syrupy consistency and coat the walnuts (approx. 45 minutes to 1 hour).
Strain walnuts from liquid. Fry at 350°F until brown.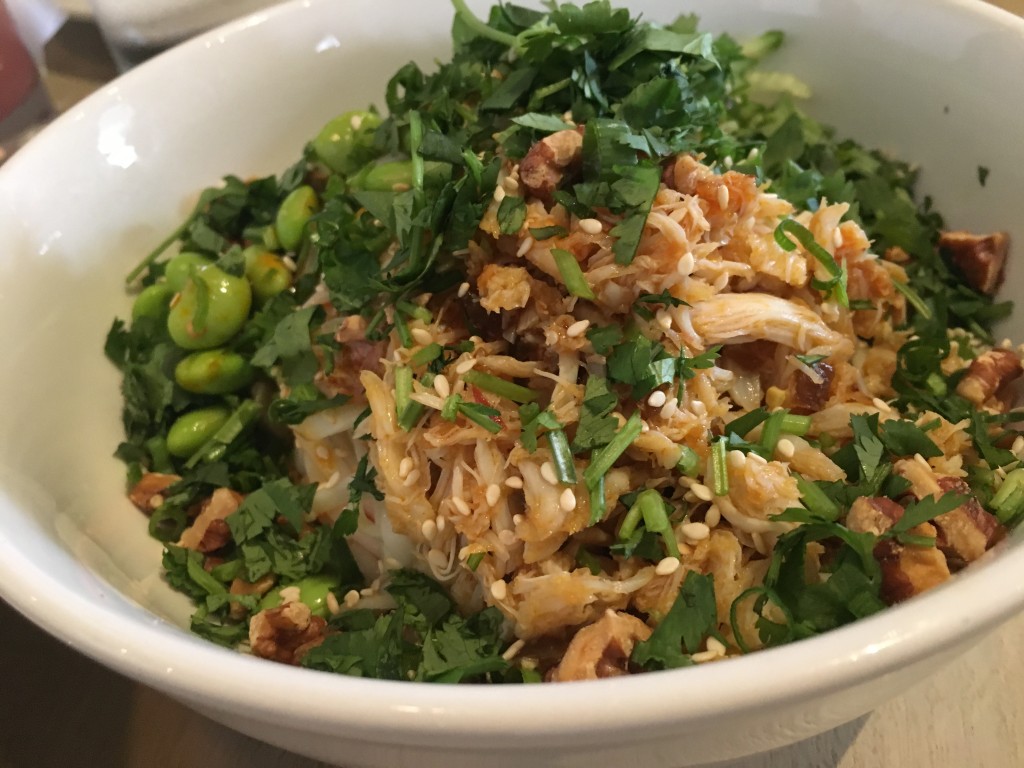 Serves: 1
Level of Difficulty: Easy
Prep Time: 30 minutes
Cook Time: 15 minutes
CHEF'S NOTE
The cold sesame noodles hail from China, and onfirst inspection may look deceivingly simple. That's the fun part because once you mix all the ingredients together, you end up with a dish that has amazing complexity. People are usually floored by how flavorful and nuanced the noodles are and how all the components work together, creating a symphony of flavors and textures.
---
NOODLE INGREDIENTS
4 tablespoons cold noodle sauce (see recipe below)
2 cups cooked noodles—Chinese dry wheat noodles, or an Italian dry pasta like spaghetti or chitarra.
3 tablespoons walnuts, toasted and rough-crushed (into approximately the size of a pea, you want to feel texture of the walnuts as you eat the dish)
3 tablespoons Persian cucumbers, batons (approx. 2 inches in length, ¼-inch thick)
3 tablespoons young soy beans (aka edamame), blanched quickly in heavily salted boiling water
2 tablespoons scallions, green part only, cut into small rounds
2 teaspoons sesame seeds, toasted
½ cup cilantro, rough-chopped (with some stems attached, the stems are full of flavor)
PROCEDURE
Cook according to package instructions.
Set aside. Chill noodles before serving.
---
COLD NOODLE SAUCE INGREDIENTS
4 tablespoons garlic, minced
2 tablespoons ginger, grated
1 cup soy sauce
6 tablespoons sugar
1 tablespoons Chinese black vinegar
1 tablespoons sesame oil
3 tablespoons pickled mustard stems, minced (optional)
PROCEDURE
Combine all ingredients in a bowl, whisk together.
PLATING
Place sauce on the bottom of a serving bowl.
Add noodles on top of sauce.
Garnish with walnuts, cucumbers, soy beans, scallions, sesame seeds, and cilantro.
Instruct person eating the noodles to thoroughly mix noodles with the other ingredients.
CHEF'S NOTE
The sauce should taste very salty, sweet and slightly acidic.
CASSIA VIETNAMESE COFFEE PUDDING
Serves: 4
Level of Difficulty: Moderate
Prep Time: 20 minutes
Cook Time: 20 minutes
CHEF'S NOTE
This recipe is courtesy of Cassia's co-pastry chefs Zoe Nathan (a renowned restaurateur and author, she's also one of my partners at Cassia) and Laurel Almerinda. It's one of the most popular dishes at the restaurant.
---
INGREDIENTS
1 cup organic sweetened condensed milk
½ cup organic whole milk
½ cup organic heavy cream
1 vanilla bean
¼ cup espresso grounds
½ cup espresso
2 large organic eggs
3 tablespoons organic sugar
⅛ teaspoon kosher salt
1½ tablespoons cornstarch
3 tablespoons organic unsalted butter
¾ teaspoon vanilla extract
PROCEDURE
Heat condensed milk, milk, cream, vanilla bean, espresso grounds, and espresso to a scald in a large, non-reactive pot.
Meanwhile whisk eggs, sugar, salt, and cornstarch together in a large bowl.
Temper cream mixture into egg mixture. Return the custard to the pot and cook, stirring continuously, until thickened.
Strain through a fine mesh strainer onto the butter and vanilla extract.
Immersion blend until smooth and very well incorporated. Cool with plastic pressed to the surface to avoid forming a skin.
Once cool, dollop into cups and serve with lightly sweetened whipped cream.
CHEF'S NOTE
The pudding keeps up to 3 days refrigerated.
Hollywood Bowl Line Up
July 17-July 23
West Side Story
In a concert performance conducted by Gustavo Dudamel, this poignant, provocative and emotionally powerful musical takes us back to the mid-1950s and New York's Upper West Side, where racial and social tensions run high.
Tuesday, July 19 at 8 PM
BUY TICKETS
---
Yes We Can Can: An Allen Toussaint Salute
New Orleans' finest: Dr. John, The Allen Toussaint Band, and Galactic, celebrate the late legendary Toussaint with their own sets and with special guests.
Wednesday, July 20 at 8 PM
BUY TICKETS
---
Rhapsody in Blue with Yuja Wang and Dudamel
Pure summer magic: the astonishing Yuja Wang plays jazz-inflected classics by Ravel and Gershwin conducted by Music & Artistic Director Gustavo Dudamel.
Thursday, July 21 at 8 PM
BUY TICKETS
---
Wierd Al Takes the Bowl
When the hilariously irreverent "Weird Al" Yankovic takes over the Bowl, with a full orchestra, all bets are off. Fasten your seatbelts for his Mandatory World Tour, a wild ride through 30 years of pop culture parodies and original satire by the four-time Grammy-winning king of musical comedy.
Friday, July 22 at 8 PM
BUY TICKETS
Saturday, July 23 at 8 PM
BUY TICKETS