Brendan Collins Picnic Recipes
Brendan Collins

L.A. is filled with incredibly talented chefs from around the world, and one of the city's favorites is British expat Brendan Collins, whose menu at Birch—not far from the Hollywood Bowl—reflects eclectic global influences. A classically trained chef with a galaxy of Michelin stars on his résumé, Collins' skills with charcuterie reveal a French soul but his recipes below suggest a nostalgia for home.
"I like to listen to music during prep time at the restaurant. It inspires us to work harder during the laborious and sometimes boring work that we have to do to get ready for our guests. You can also tell a person's character from their playlist, too, that you might not always catch just working next to them…It's always good for a laugh and a tease."—Brendan Collins
RECIPES
BAGNA CÀUDA WITH MARKET VEGETABLES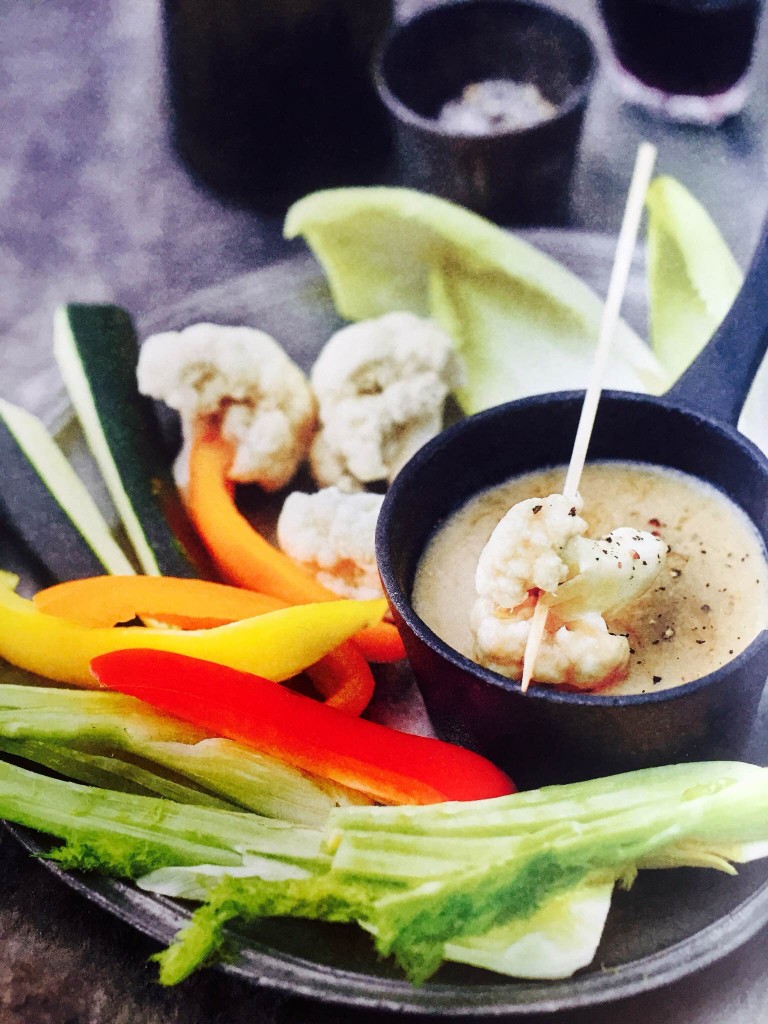 Serves: 4
Level of Difficulty: Easy
Prep Time: 30 minutes
Cook Time: 8 minutes
CHEF'S NOTE
There are many impressive things that occupy the minds of people when they get to Los Angeles, such as the weather, open-air activities and the Hollywood Bowl. We're extremely blessed to have markets overflowing with fruits and veggies from some of the best farmers in the world, so this dish is a nod to those guys. Accompanied with a flavorful dipping sauce, what better way to enjoy the open air and a great show than to start your evening with a glass of wine and some crunchy fresh vegetables!
INGREDIENTS
½ cup plus 2 tablespoons extra-virgin olive oil
¼ cup whole milk
4 to 5 cloves garlic, peeled and Microplaned or minced
12 anchovies preserved in olive oil, drained and chopped
⅓ to ½ cup unsalted butter, cut into chunks
A variety of raw market vegetables:  fennel, cauliflower, Belgian endive, sweet peppers, and zucchini
PROCEDURE
Put the oil in a pan with the garlic and anchovies and cook over low heat, consistently whisking for 3 or 4 minutes, then add the milk.
At this point everything should begin to meld together.
Whisk in 6 tablespoons of cubed butter, and as soon as it has melted, remove from the heat and give a few more beats with your whisk so that everything is creamy and emulsified.
Taste. If it's a bit too pungent or fishy for you, add the remaining butter. Just remember, you're eating it with veggies so it should have a powerful flavor.
Eat and let the healthiness begin!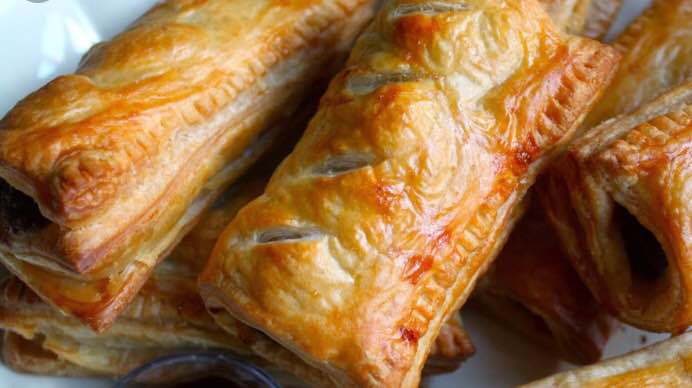 Serves: 4
Level of Difficulty: Easy
Prep Time: 10 minutes
Cook Time: 15-20 minutes
CHEF'S NOTE
Finger food! Picnics should be all about finger food and this is a British classic, a good sausage roll with a bit of mustard and you're in a good place in life. This year at Birch, we're preparing picnics for the Hollywood bowl, and they're very British, so here's a recipe for our sausage roll. Enjoy it and if you can't be bothered to make it, we'd love to do the hard work for you. Bob's your uncle!
INGREDIENTS
 Olive oil
1 onion, peeled and finely chopped
1 tablespoon chopped sage
1 handful dried breadcrumbs
1 tiny pinch of grated nutmeg
6 4-ounce pork sausages (bratwurst or English breakfast sausage)
4 sheets ready-made puff pastry
1 organic egg
Just a bit of milk
PROCEDURE
Organization never hurts, so preheat your oven to 350ºF.
Heat the olive oil in a saucepan and add the onions. Cook slowly for about 5 minutes until soft and golden brown. Add the chopped sage leaves, cook for a couple of minutes more and then spread out on a plate or baking tray to cool off.
With a sharp knife, slit the skins of the sausages and pop the meat out. Put it in a large bowl with the cooled sage and onion mix and the breadcrumbs, then mix well with your hands (cleaned is obviously the better option) until well mixed together.
If the pastry didn't come already sheeted, we'll have to take care of that. On a floured work surface, roll the pastry out into a big rectangle ⅛-inch thick. If it's sheeted, you can forget all that bollocks and cut it lengthways into two long, even rectangles. Roll the mixture into sausage shapes with your hands (cleaned again, if you please) and lay along the center of each rectangle.
Mix together the egg and milk, then brush the pastry with that egg wash. Next, fold one side of the pastry over, wrapping the filling inside. Press down gently to seal.
Cut the long rolls into the sizes you want (Chef's Note: Yanks, bigger is not always better!) and space them out on a non-stick paper-lined baking sheet. Brush with the rest of the egg wash and bake in the oven for about 20 minutes or until golden-brown and cooked through.
PLATING SUGGESTION
Serve with walnut mustard and butter lettuce salad.
PROPER BRITISH SCONES WITH WHIPPED CREAM AND JAM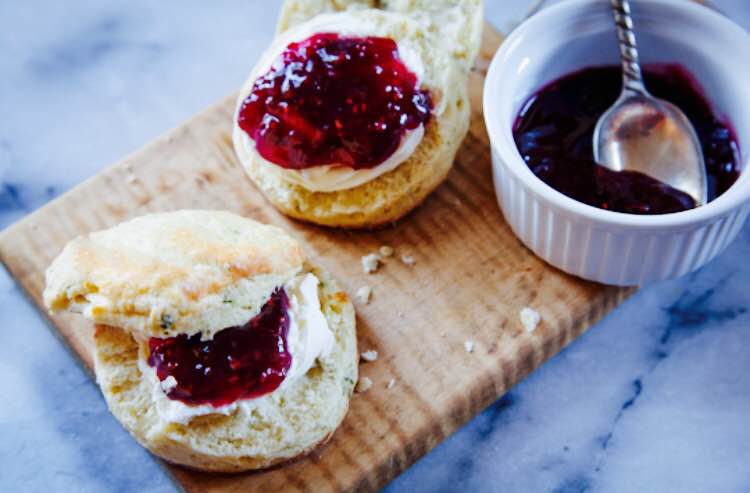 Serves: 4
Level of Difficulty: Moderate
Prep Time: 10-15 minutes
Cook Time: 10-12 minutes
INGREDIENTS
3 cups self-rising flour (3 cups all-purpose flour, 1½  tablespoons baking powder and 1½  teaspoons salt can be substituted)
2 teaspoons baking powder
¼ teaspoon salt
¼ cup sugar
4 ounces unsalted butter at cool room temperature, more for pan, optional
1 cup plus 1 tablespoon whole milk
1 egg yolk
1 cup heavy cream
1 cup mascarpone cheese
2 tablespoons powdered sugar
1 cup favorite strawberry jam
PROCEDURE
In a large bowl, sift together the flour, baking powder and salt. Whisk in the sugar. (Or give all the dry ingredients a quick whirl in a food processor.) Cut butter into bits and work it into the dry ingredients with fingertips or a pastry blender, or by pulsing the processor, until mixture is finely crumbly. If using a food processor, transfer mixture to a bowl.
Gradually add 1 cup milk and mix with a fork. Knead lightly by hand to make a smooth dough. Wrap in plastic and refrigerate 20 minutes.
Heat oven to 425ºF. Grease a baking sheet with butter or line it with parchment paper. Roll dough to a ¾-inch thickness. Use a fluted 2- or 3-inch cutter to punch out scones. Scraps can be kneaded lightly for additional scones. Beat the egg yolk with remaining milk and brush on the scones. Place on baking sheet and bake 10 to 12 minutes until risen and golden brown.
Whisk together cream, mascarpone and powdered sugar until stiff peaks.
Cut open scones, add a spoonful of jam and cream, and eat your heart out!
Hollywood Bowl Line Up
August 9-August 14
Magical Mozart
Mozart could do it all, as this program of magical masterpieces demonstrates: a dramatic opera overture, a dazzling concerto, and the magnificent pinnacle of his symphonies.
Tuesday, Aug 9 at 8 PM
BUY TICKETS
---
50 Years of Jeff Beck
Celebrated guitarist and Rock 'n' Roll Hall of Fame inductee Jeff Beck marks 50 momentous years of electrifying live performances with this very special appearance. One of the most widely acclaimed guitarists in popular music, Beck is known for his wild mix of blues, funk, and jazz rock, as well as collaborations with countless luminaries.
Wednesday, August 10 at 8 PM
BUY TICKETS
---
Beethoven and Schubert
Two pillars of the Viennese Romantic repertory under the summer sky: it doesn't get more "classic" than this! Adding to the excitement is the Bowl debut of much-awarded Swiss pianist Francesco Piemontesi, BBC Music magazine's Newcomer of 2012.
Thursday, August 11 at 8 PM
BUY TICKETS
---
An Olympic Carnival | Sergio Mendez & 50 Years of Brazil
Olympic fever hits the Bowl as we salute the XXXI Olympiad in Rio de Janeiro. Dance to the scintillating samba/pop rhythms of Grammy® winner Sergio Mendes, celebrating the 50th anniversary of his influential band, Brasil '66 – an electrifying evening of samba, capoeira, Bloco-Afro drummers and fireworks!
Friday, August 12 at 8 PM
BUY TICKETS
Saturday, August 13 at 8 PM
BUY TICKETS
---
Rodrigo y Gabriela
Mexican guitar heroes Rodrigo y Gabriela return with their virtuosic mix of epic licks and intimate instrumentals for a magical collaboration with orchestra. Taking influences from the worlds of Latin, jazz, rock and heavy metal, the pair's high energy performances create a six-string sound like no other.
Sunday, August 14 at 7:30 PM
BUY TICKETS