Geoffrey Zakarian Picnic Recipes
Geoffrey Zakarian

This week at the Hollywood Bowl, Ben Harper & The Innocent Criminals takes the stage to the delight of guests. And to the delight of serious diners, Iron Chef Geoffrey Zakarian has recently opened his first West Coast restaurant, Georgie at the Montage Beverly Hills. Now a part of our community, the accomplished culinarian is also part of the Hollywood Bowl family, offering some fun, easy to master dishes for an evening under and among the stars.
"I enjoy classical piano and jazz. Keith Jarrett. Big band music. It sets the mood and makes me happy. Happy cook = happy food!"
—Geoffrey Zakarian
RECIPES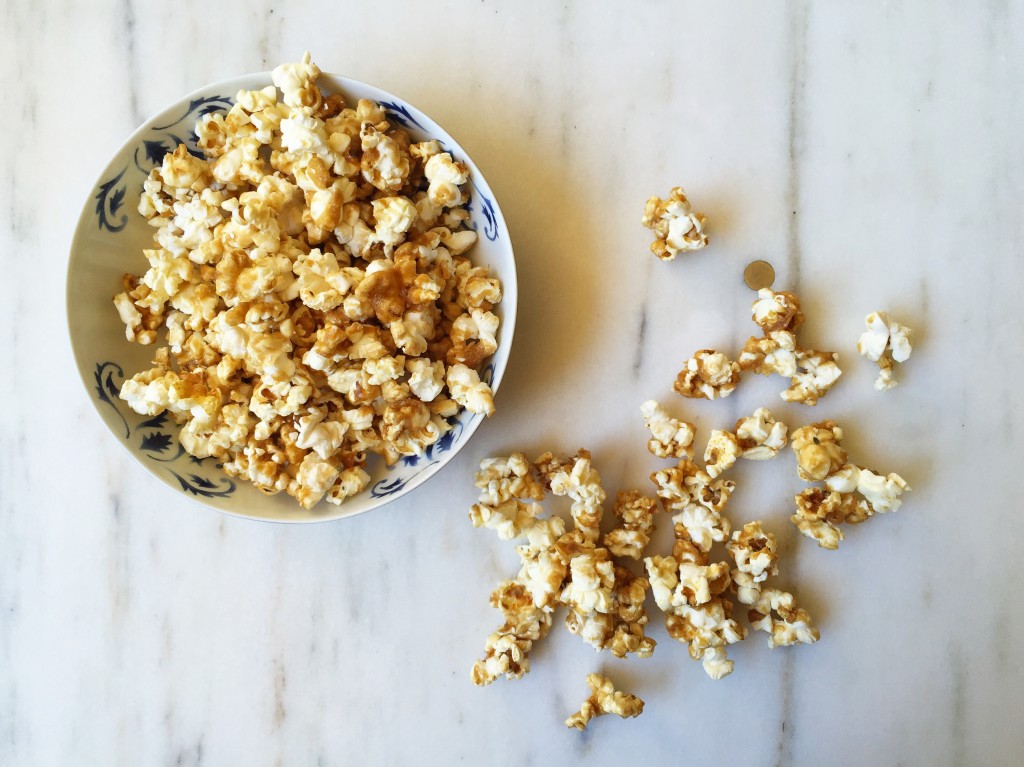 Yield: 3 bags of popcorn
Level of Difficulty: Easy
Prep Time: 10 minutes
Cook Time: 50 minutes
INGREDIENTS
½ cup corn syrup
½ cup butter
½ teaspoon vanilla
1 cup brown sugar
3 bags popcorn, popped
½ teaspoon baking soda
1 teaspoon kosher salt
PROCEDURE
Preheat oven to 250°F.
In a large sauce pot, bring the corn syrup, butter, vanilla, and brown sugar to a boil and continue to cook for 5 minutes. Do not stir the ingredients.
Add the baking soda and salt and whisk to combine.
Add the popcorn and coat evenly by stirring.
Place onto a half sheet tray lined with parchment.
Bake for 45 minutes, stirring every 15 minutes.
Store in small paper bags or in an airtight container for transport to the Bowl.
JAMÓN AND MANCHEGO TARTINES WITH FIG MUSTARD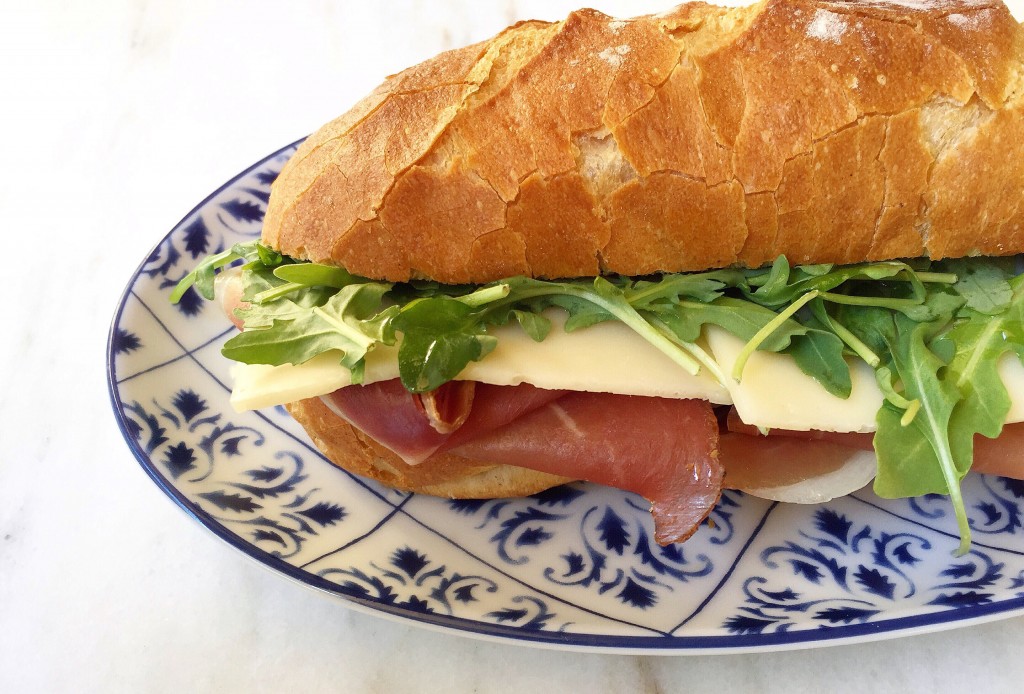 Yield: 4 sandwiches
Level of Difficulty: Easy
Prep Time: 15 minutes
Cook Time: 10 minutes
---
FIG MUSTARD INGREDIENTS
1½ cups ripe figs, stems removed
2 tablespoons red wine vinegar
2 tablespoons Dijon mustard
4 tablespoons whole grain mustard
Kosher salt
Fresh cracked pepper
PROCEDURE
Combine in a food processor and pulse until chunky but combined.
---
TARTINE INGREDIENTS
1 French baguette
1½ cups fig mustard (see recipe above)
8 ounces jamón (dried Spanish ham), sliced very thin
4 ounces Manchego cheese, sliced very thin
2 cups arugula
1 tablespoon sherry vinegar
1 tablespoon extra virgin olive oil
Kosher salt
Fresh cracked pepper
PROCEDURE
Cut the baguette in half through the center lengthwise, running your knife from end to end.
Spread the fig mustard onto the baguette halves.
Arrange the jamón and Manchego cheese (you may like more or less) across the baguette.
Dress the arugula in a bowl with the sherry vinegar and extra virgin olive oil. Season with salt and pepper.
Arrange the arugula on the baguette. Cut the baguette into four sandwiches, and wrap in wax paper for transport.
HERBED LABNE WITH PICKLED CHERRIES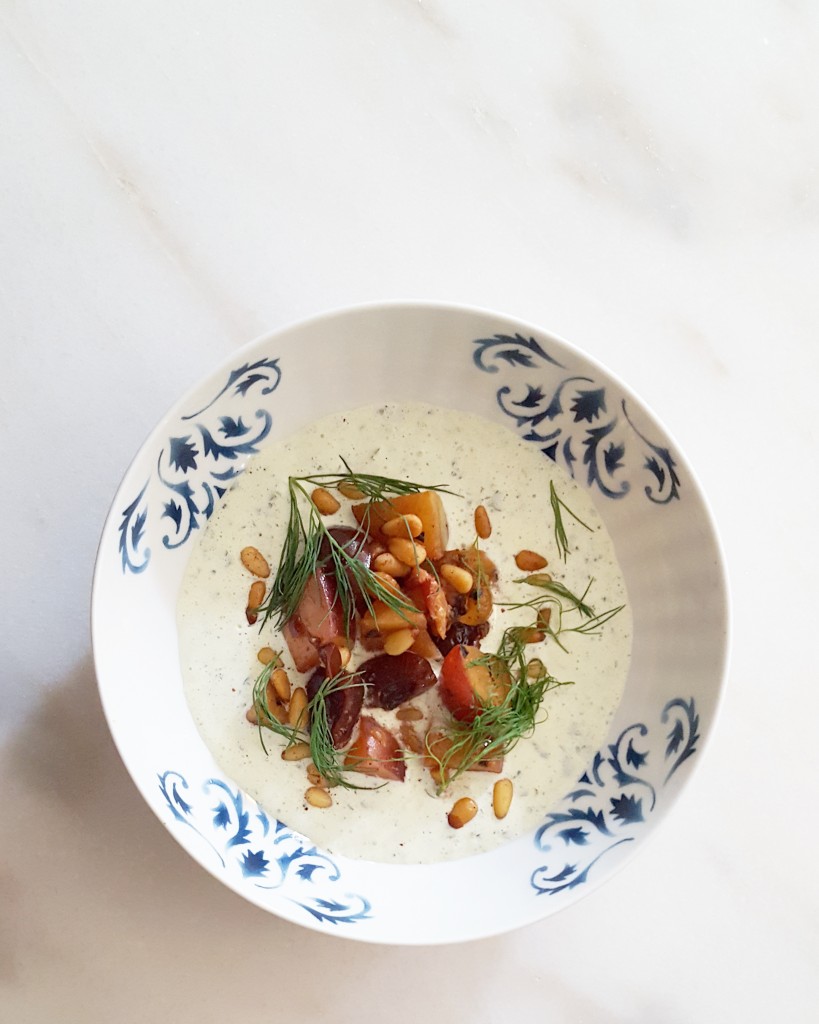 Yield: 2 cups
Level of Difficulty: Easy
Prep Time: 10 minutes
Cook Time: 10 minutes
INGREDIENTS
8 ounces cherries, pitted
2 pieces star anise
1 cinnamon stick
½ cup balsamic vinegar
1 cup water
1 cup red wine
4 tablespoons sugar
2 cups labne (or thick, full fat Greek yogurt)
Juice of 1 lemon
2 tablespoons mint, finely minced
2 tablespoons parsley, finely minced
1 teaspoon garlic, grated on a zester
4 pita breads, cut into 1/6ths and toasted lightly
Kosher salt
Fresh cracked pepper
PROCEDURE
Bring the cherries, star anise, cinnamon, balsamic vinegar, water, red wine, and sugar to a simmer and allow to cool overnight. Strain the cherries when ready to use, and store in the liquid when not using.
Combine thelabne, lemon juice, mint, parsley, and garlic, seasoning with salt and pepper. Chill until ready for use.
Serve with pita bread (pre-toasted to take away the "rawness") and the pickled cherries. Garnish with fresh mint and parsley leaves if you wish.
Hollywood Bowl Line Up
August 15-August 21
A Handel Celebration
Nicholas McGegan celebrates the 20th anniversary of his Bowl debut with a festive survey of Handel masterworks: stirring anthems, dramatic arias and nimble orchestral dances.
Tuesday, August 16 at 8 PM
BUY TICKETS
---
The Ultimate Tribute to Ray Charles
Legendary saxophonist Maceo Parker, known for his work with James Brown and Prince, over 25 years of solo work, and as a bandleader in his own right, leads a tribute to Ray Charles, Ray's orchestra and the Raelettes.
Wednesday, August 17 at 8 PM
BUY TICKETS
---
Mozart & Schumann
The ebullient Nicholas McGegan leads a program of music inspired by the personal taste of innovative French landscape painter Théodore Rousseau (1812-1867), a true "mélomane," or music lover. Videos made in collaboration with the J. Paul Getty Museum will provide insight into the artist's relationship with the music that fired the passions of his Romantic generation.
Thursday, August 18 at 8 PM
BUY TICKETS
---
Ben Harper & The Innocent Criminals
Three-time Grammy® winner Ben Harper and his recently reunited band perform for the first time with fullorchestra. The soulful singer-songwriter, who has achieved worldwide acclaim along with his stellar band, will perform songs from their celebrated career and new album Call It What It Is.
Friday, August 19 at 8 PM
BUY TICKETS
---
Brandi Carlile | Old Crow Medicine Show
Singer-songwriter Brandi Carlile captures the raw and powerful sound of true rock 'n' roll as she celebrates her sixth album, The Firewatcher's Daughter. High-energy old-time string band Old Crow Medicine Show has won two Grammys®, been inducted into the Grand Ole Opry, and gone platinum with their re-imagined Dylan song "Wagon Wheel."
Saturday, August 20 at 8 PM
BUY TICKETS
---
The Silk Road Ensemble with Yo-Yo Ma
World-renowned cellist Yo-Yo Ma and his innovative brainchild, The Silk Road Ensemble, bring their collaborative excellence to the Bowl stage for an exciting evening of world music exploration. Made up of performers and composers from more than 20 countries and lauded as "vibrant and virtuosic" by The Wall Street Journal, the ensemble encompasses musical traditions from around the globe.
Sunday, August 21 at 7 PM
BUY TICKETS