Francis Derby Picnic Recipes
Francis Derby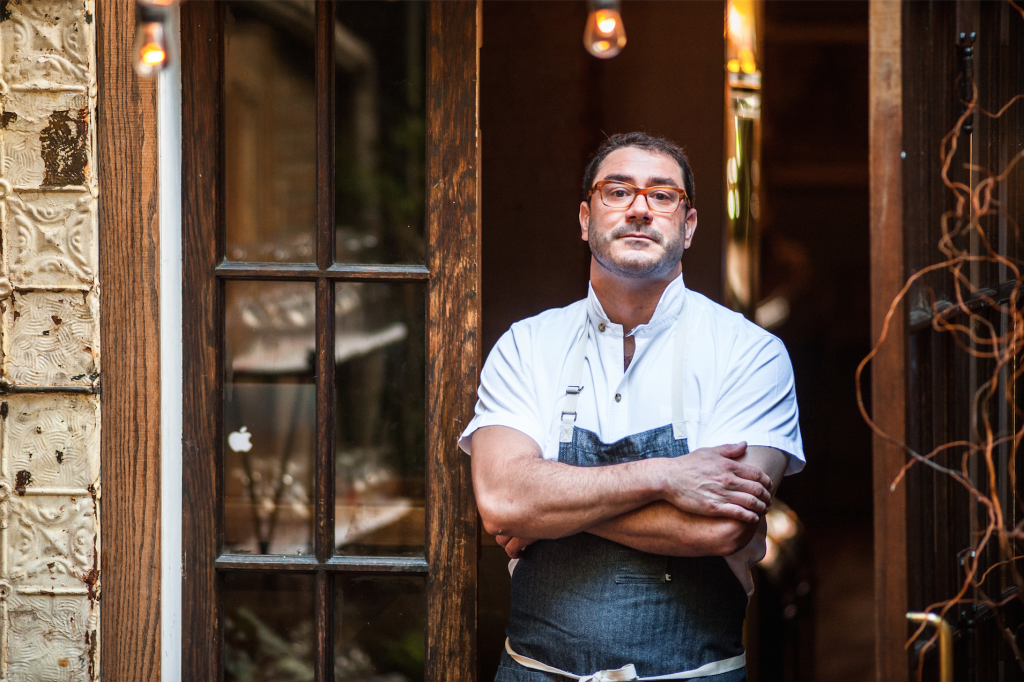 This week at the Bowl, Strauss & Kreisler entertains an appreciative L.A. crowd. Picnicking suggestions are courtesy of chef Francis Derby, a veteran New York chef who polished his craft with Big Apple luminaries Willie Dufresne and David Chang before drawing enthusiastic crowds at The Cannibal. Recently opening the restaurant's new Culver City location, Derby works wonders with his signature meat-centric menu, balanced against a celebration of California produce.
"We listen to all kinds of music at the restaurant, from old school hip hop to 80s to classic rock. We have speakers in the kitchen that play the same music that's playing in the dining room. The music drives the service and sets the tone for the room, so naturally we would want that happening in the kitchen as well! It sets the pace for service and makes the kitchen and dining room one space with the same vibe."
—Francis Derby
RECIPES
PEACH & TOMATO SALAD WITH WHITE SESAME
Serves: 2-4
Level of Difficulty: Easy
Prep Time: 5 minutes
Cook Time: none
CHEF'S NOTE
There is a time in summer when both tomatoes and peaches reach their finest moment. This salad is perfect for that time. The sweetness of the peaches and the acid from the tomatoes make this salad pop. This is something that every summer I look forward to making—and more importantly, eating. No summer picnic is complete without tomato salad.

INGREDIENTS
2 peaches (medium size)
1 heirloom tomato (large)
½ cup olive oil
3 tablespoons tomato vinegar or red wine vinegar
2 scallions
3 tablespoons white sesame seeds
6 leaves of basil
 
PROCEDURE
Cut tomato and peach into large dices.
Slice the scallions thin, using both the white and the green parts.
Tear the basil into large shards so it almost eats like lettuce.
Mix all ingredients together and season to taste with sea salt.
GRILLED CHICKEN SANDWICH WITH AVOCADO REMOULADE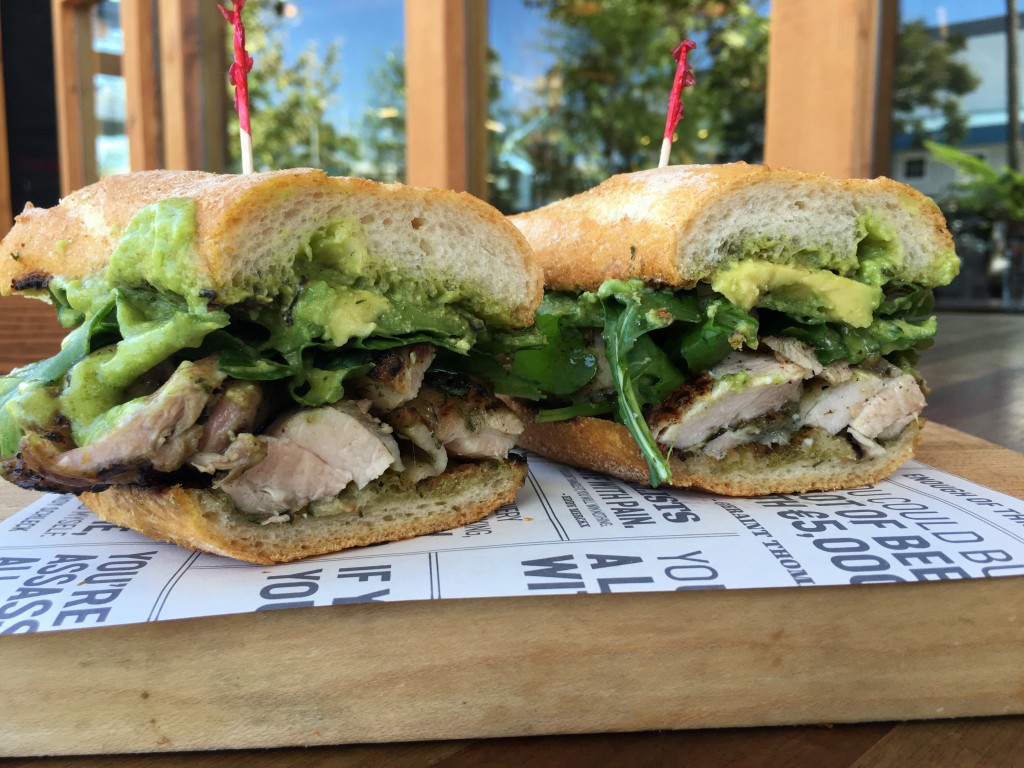 Serves: 2-4
Level of Difficulty: Easy
Prep Time: 20 minutes
Cook Time: 10 minutes

CHEF'S NOTE
This is a simple sandwich that really holds up well when traveling someplace to have a picnic. Wrap them loosely in wax paper for transportation to the Bowl. The avocado chunks bring a great fattiness while the celery in the remoulade provides a nice crunch.
---
FOR THE AVOCADO REMOULADE:
INGREDIENTS
¼ cup mayonnaise
¼ cup sour cream
1 tablespoon Dijon mustard
1 dash Tabasco sauce
2 stalks celery
1 avocado
2 teaspoons salt
PROCEDURE
Finely dice the celery stalks.
Cut avocado in large chunks, about ½-inch.
Gently fold all ingredients together, trying to leave the avocado in large chunks.
---
FOR THE CHICKEN:
INGREDIENTS
3 chicken thighs, skin-on and bone-out
1 lemon
1 teaspoon mustard powder
1 teaspoon coriander powder
1 tablespoon salt
¼ cup olive oil
PROCEDURE
Set grill to medium-high heat.
Toss chicken with spices, lemon juice and zest from the lemon and olive oil. Let sit for 30 minutes to marinate.
Grill chicken until cooked through, approximately 4 minutes on each side.
---
FOR SANDWICH:
INGREDIENTS
1 6-inch ciabatta roll (cut in half)
2 tablesppons avocado remoulade
3 grilled chicken thighs
1 lemon
1 ounce arugula
To taste Maldon sea salt
PROCEDURE
Slice chicken thighs and lay out on bread.
Top with avocado remoulade as well as arugula.
Squeeze lemon juice over sandwich filling.
Season with sea salt.
Wrap in wax paper, and enjoy with your music!
SUMMER STRAWBERRY & BACON FAT BISCUIT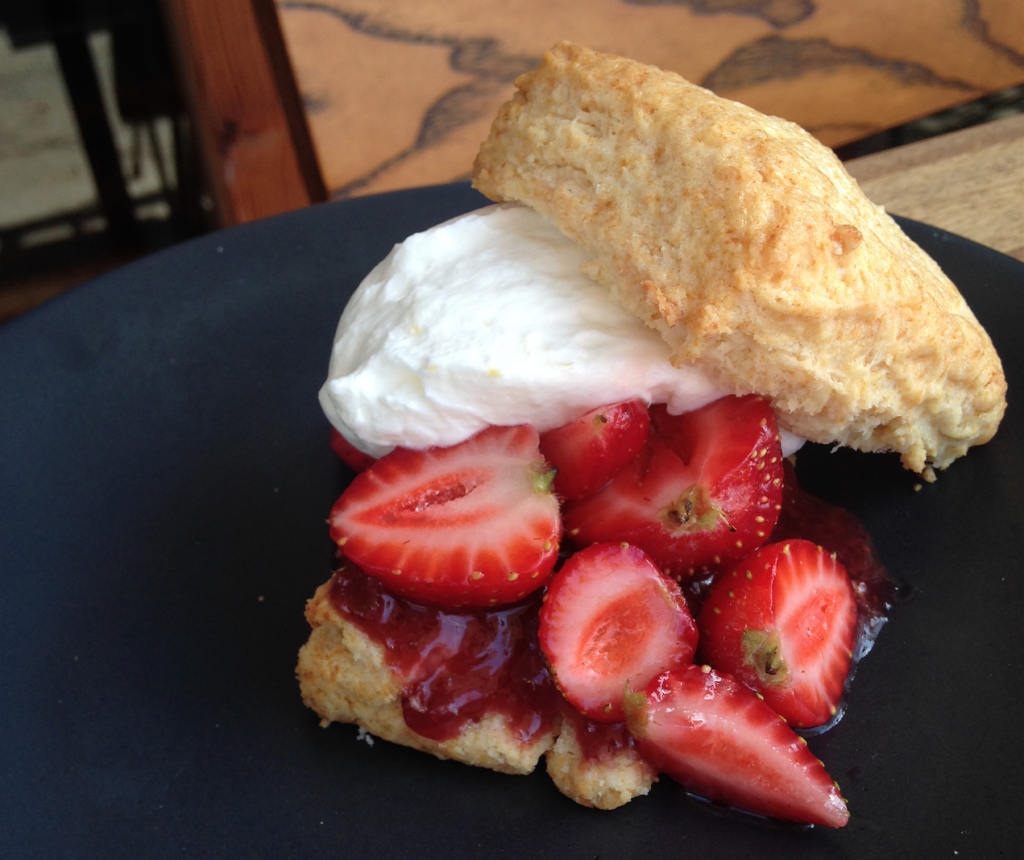 Serves: 2-4
Level of Difficulty: Easy
Prep Time: 20 minutes
Cook Time: 30 minutes
CHEF'S NOTE
Strawberry shortcake is always a great dessert during strawberry season. We always have bacon fat around the restaurant and this biscuit uses that and takes on a slight smoke flavor that works so well with the sweet strawberries and whipped crème fraîche.
---
FOR THE WHIPPED CRÈME FRAÎCHE:
INGREDIENTS
1 cup heavy cream
½ cup crème fraîche
2 tablespoons granulated sugar
¼ teaspoon salt
¼ teaspoon vanilla
PROCEDURE
Combine all ingredients in a mixer and whip with whisk attachment until soft peaks.
---
FOR THE STRAWBERRIES:
INGREDIENTS
1 pint strawberries, washed and stemmed and cut in half
2 tablespoons granulated sugar
1 pinch salt
PROCEDURE
Wash strawberries in water, remove stems and cut in half.
Sprinkle strawberries with sugar and salt and toss.
Let strawberries sit for at least 10 minutes until they become juicy and saucy.
---
SHORTCAKE BACON FAT BISCUITS
INGREDIENTS
4 cups all-purpose flour
¼ cup baking powder
1 tablespoon kosher salt
¼ cup granulated sugar
¼ cup + 2 tablespoons cold bacon fat
2½ cups heavy cream + a little extra for brushing
PROCEDURE
In a large mixing bowl whisk together dry ingredients.
Using your hands, cut the bacon fat into the dry ingredients until it is pea-sized and you can still see some chunks.
Add half the cream and gently fluff it into the mixture.
Add rest of the cream and continue to mix just until dough comes together.
Scoop out dough on to a sheet tray with a 3-ounce ice cream scoop.
Brush biscuits with heavy cream.
Bake at 375°F until golden brown, about 15 minutes.
Hollywood Bowl Line Up
September 6-September 11
Strauss & Kreisler
Celebrating Principal Concertmaster Martin Chalifour's 20th season at the Bowl, this program features him performing favorites on Fritz Kreisler's own Strad. And the opulent sound of the horn is featured in luxurious music by Richard Strauss.
Tuesday, September 6 at 8 PM
BUY TICKETS
---
Carlos Vives
One of Colombia's greatest artists, multiple Grammy®-winning singer/composer/actor Carlos Vives brings his pioneering mix of traditional Colombian folk music and irresistible pop beats to the Bowl for the first time, including some of his greatest hits such as "Volví a Nacer," "La Bicicleta" and "La Tierra del Olvido."
Wednesday, September 7 at 8 PM
BUY TICKETS
---
L.A. Dances
Ludovic Morlot leads the LA Phil in an exciting evening of dance featuring three dynamic L.A. dance companies which will bring to life the works of three outstanding L.A.-based composers. The powerful rhythms of Stravinsky's Ritecomplete the program.
Thursday, September 8 at 8 PM
BUY TICKETS
---
Fireworks Finale with Jeff Lynne's ELO
It's been nearly 30 years since ELO has toured in the United States, but visionary songwriter, singer and producer Jeff Lynne and his band join the Hollywood Bowl Orchestra to close out the season with a supersonic flight through a glittering galaxy of songs, such as "Mr. Blue Sky," "Do Ya," and "Evil Woman."
Friday, September 9 at 8 PM
BUY TICKETS
Saturday, September 10 at 8 PM
BUY TICKETS
Sunday, September 11 at 7:30 PM
BUY TICKETS