Nyesha Arrington Picnic Recipes
Nyesha Arrington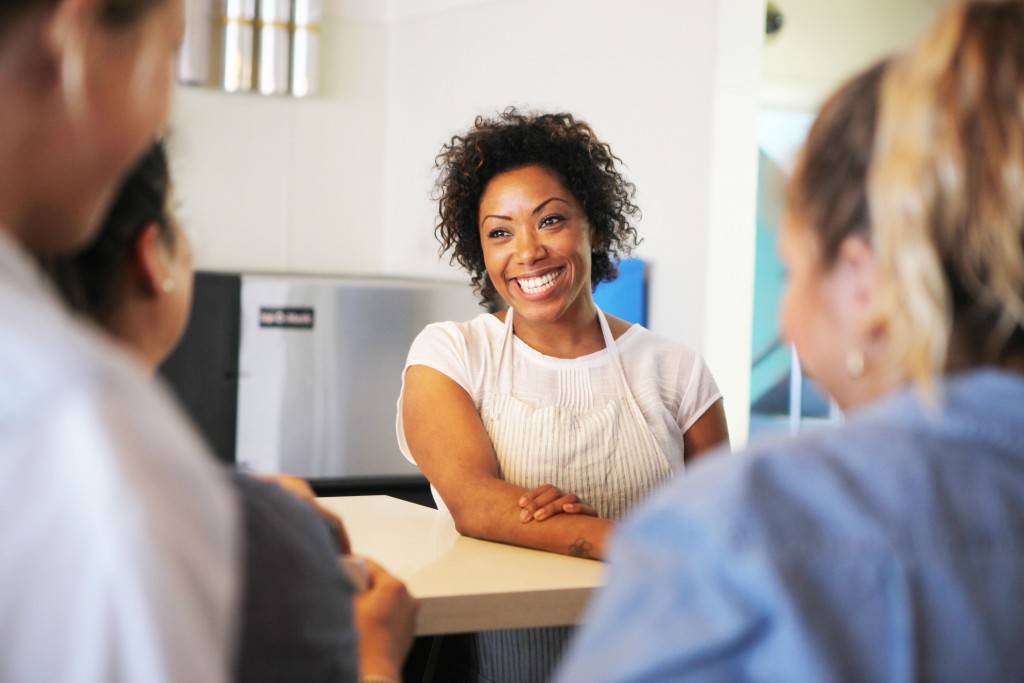 Like every season at the Hollywood Bowl, this year's schedule is a celebration of musical diversity, showcasing multiple genres and artists from every corner of the globe. Throughout her career, Nyesha Arrington—she's currently executive chef at Venice's sophisticated but very approachable Leona—has melded her multicultural sensibilities with classical French influences. The recipes she presents below, however, demonstrate her ability to elevate even the most familiar American comfort foods.
"My most memorable experiences at the Hollywood Bowl always involve food. It's a great time to bring people together, enjoy a show and eat as a group. I love to potluck and have everybody bring something different. I think a lot of other chefs must love it too, because I always see well-known chefs and their friends doing the same thing!"
—Nyesha Arrington
RECIPES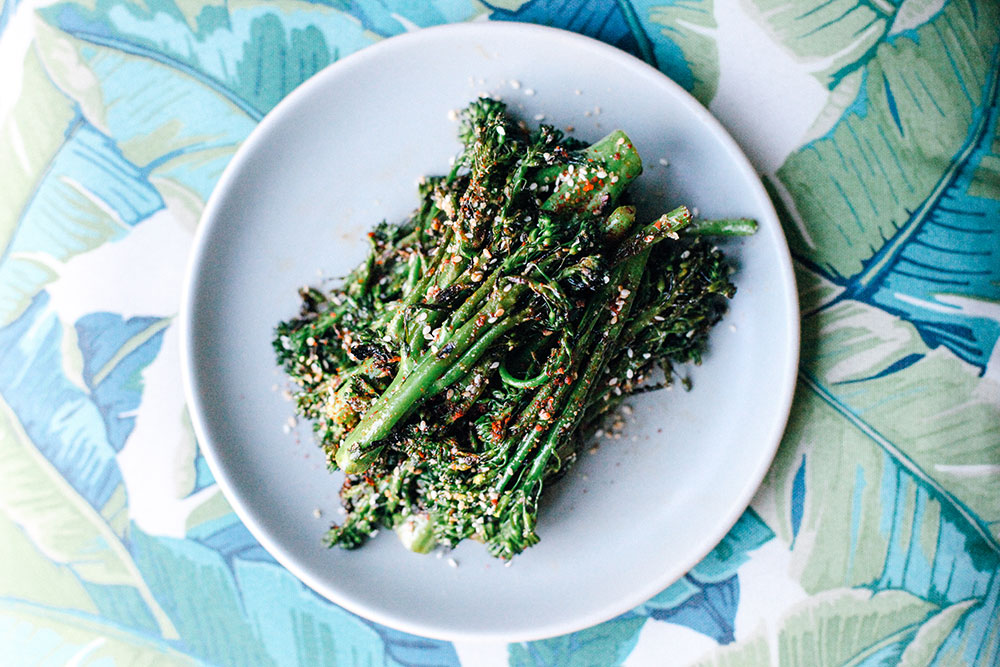 Serves: 8
Level of Difficulty: Easy
Prep Time: 20 minutes
Cook Time: 10 minutes
CHEF'S NOTE
Named after my grandmother, this is a great dish to enjoy at the Hollywood Bowl. It combines a bit of nostalgia from my childhood, when my grandmother would make me sigeumchi muchim, which is similar to a chilled spinach salad. At Leona, we have adapted this into one of our featured vegetable dishes, in which farmers' market broccolini is grilled and tossed in a light dressing of sweet soy and toasted sesame.
INGREDIENTS
2 pounds Coastal Farms (or other farmers' market) broccolini
5 tablespoons soy sauce
2½ tablespoons white sugar
¼ cup chopped green onion
2 tablespoons minced garlic
2 tablespoons sesame seeds
2 tablespoons sesame oil
½ teaspoon ground black pepper
PROCEDURE
Place the broccolini in a shallow dish.
Combine soy sauce, sugar, green onion, garlic, sesame seeds, sesame oil, and ground black pepper in a small bowl, then toss in the broccolini.
Roast on high heat (425°F) or grill over an open flame about 6 minutes or until al dente.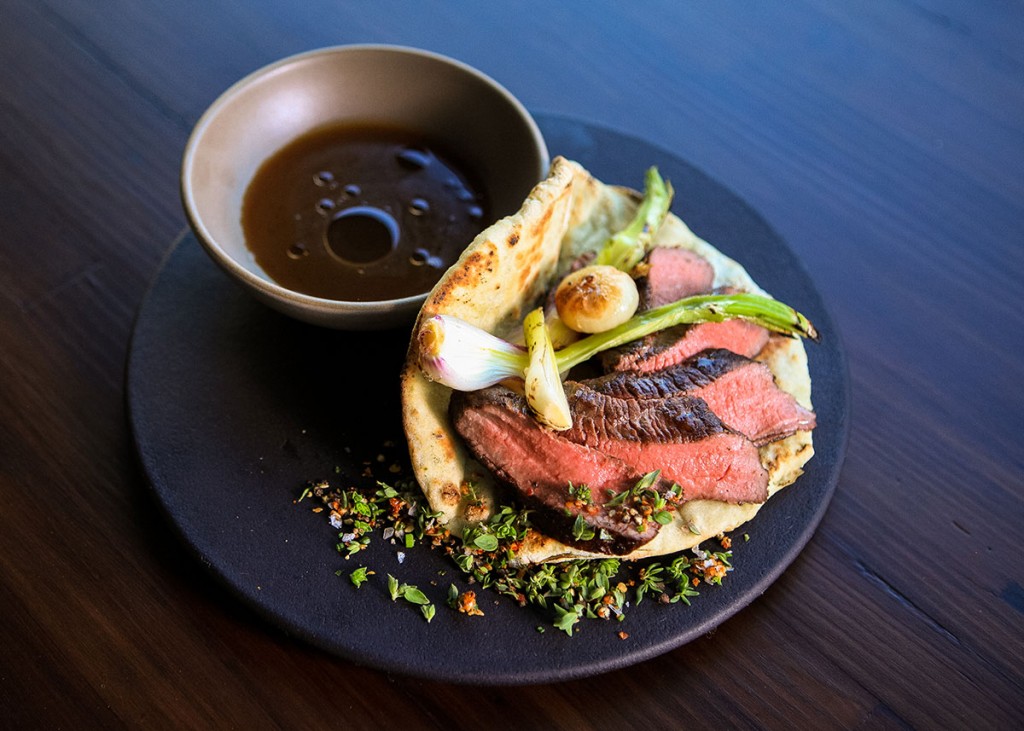 Serves: 8
Level of Difficulty: Moderate
Prep Time: 45 minutes
Cook Time: 8-9 hours
CHEF'S NOTE
Great lamb always reminds me that spring has arrived, and it works beautifully all through the summer. A light lamb dip served with a natural jus is an amazing, crowd-pleasing entrée that travels well.
INGREDIENTS
4 yellow onions, sliced
1 boneless lamb shoulder roast (3-4 pounds)
1 tablespoon extra virgin olive oil
2 cloves garlic, minced
1 teaspoon each dried oregano, thyme and parsley, divided
1 teaspoon kosher salt
1 teaspoon ground black pepper
4 cups low-sodium beef both
6 ounces full flavored beer (e.g. stout, IPA) OR 6 ounces dry red wine
1 tablespoon Worcestershire sauce
1 teaspoon dried mustard
6 pita, sliced in half and warmed slightly
Butcher's twine
Plastic wrap
PROCEDURE
Remove butcher's netting from roast and lay flat on work surface. Trim most of the excess fat. Season inside of roast with half of the dried herbs, salt and pepper. Roll roast back up and secure with twine.
Combine oil and remaining herbs, salt and pepper and mix well. Thoroughly rub mixture on the outside of the roast. Loosely cover with plastic wrap and let rest on counter for 45 minutes.
Place onions and garlic in the bottom of your slow-cooker and set roast on top. Add broth, beer/wine, mustard, and Worcestershire sauce. Cover and roast on low heat for 8 to 9 hours. (Chef's Note: You can cook for 4 to 5 hours on high heat but slow roasting is recommended.)
When cooking time is finished, remove roast and place on a cutting board. Remove twine and thin-slice against the grain. Pile meat, and onions onto pita. Serve with side of the natural jus.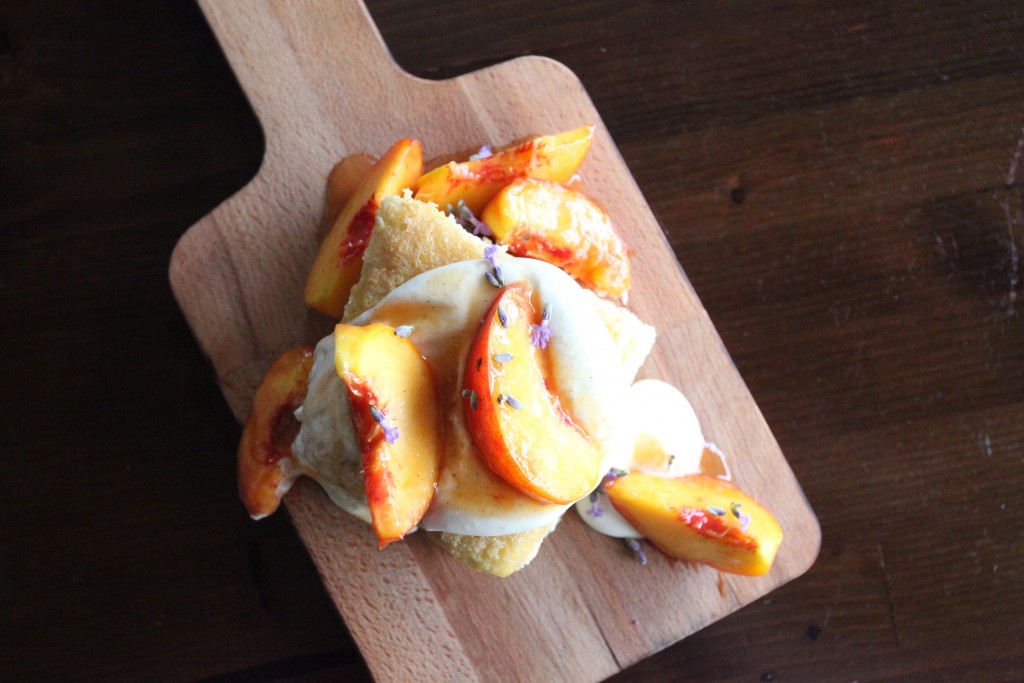 Yields: 1 cake
Level of Difficulty: Moderate
Prep Time: 20 minutes
Cook Time: 30 minutes
INGREDIENTS
½ pound unsalted butter, melted and cooled slightly, plus more for buttering the dish
6 large eggs, at room temperature
2 tablespoons milk, at room temperature
1⅓ cups plus ¼ cup granulated sugar
2 cups all-purpose flour
2 teaspoons baking powder
¼ teaspoon salt
½ cup Cognac
8 peaches, peeled and cut into wedges
1 cup heavy cream
½ cup confectioners' sugar
1 teaspoon pure vanilla extract
PROCEDURE
Preheat the oven to 375°F. Generously butter a 9-by-13-inch glass baking dish. In a large bowl, using an electric mixer, beat the eggs with the milk until frothy. Add the 1⅓ cups of granulated sugar and beat at high speed until the mixture is thick and pale, about 7 minutes.
In a bowl, whip the cream with the confectioners' sugar and vanilla until firm. Cut the shortcake into squares and serve with the peaches and whipped cream.
Stir in the peaches and let stand at room temperature for at least 15 minutes, stirring occasionally.
Meanwhile, in a medium bowl, mix the remaining ¼ cup of granulated sugar with the Cognac.
In a medium bowl, sift the flour with the baking powder and salt. Fold the dry ingredients into the beaten egg mixture, then fold in the melted butter until incorporated. Spread the batter in the prepared dish and bake in the center of the oven for about 30 minutes, until the cake is golden. Transfer to a rack and let cool.
Hollywood Bowl Line Up
August 22-August 28
Korngold & Beethoven's Fifth
One of the world's greatest virtuosos delivers the rich Romanticism of Hollywood legend Erich Wolfgang Korngold, followed by the most famous symphony ever written.
Tuesday, August 23 at 8 PM
BUY TICKETS
---
Mega Nova
Showcasing groundbreaking musical explorations, Mega Nova puts five musical titans together and brings their influential music to life in the epic surrounds of the Hollywood Bowl – a joyous celebration with modern jazz and rock icons alike. Booker T journeys through soul, blues and R&B to open the evening.
Wednesday, August 24 at 8 PM
BUY TICKETS
---
Cinematic Sounds
Bramwell Tovey leads a dazzling program of music by film composers, with a new double concerto from the late James Horner played by the Norwegian brother/sister duo that commissioned it.
Thursday, August 25 at 8 PM
BUY TICKETS
---
Culture Club
Since their inception in 1981, U.K. sensation Culture Club has sold more than 50 million records worldwide, led by their classic hits "Do You Really Want to Hurt Me," "Karma Chameleon," and "I'll Tumble 4 Ya." The original lineup, fronted by the iconic British singer/songwriter Boy George, takes the Bowl stage to perform for the first time with a full orchestra as well as with a 13-piece band.
Friday, August 26 at 8 PM
BUY TICKETS
Saturday, August 27 at 8 PM
BUY TICKETS
---
Smooth Summer Jazz
The Bowl proudly presents our summer mini-festival of the finest smooth jazz artists, including: 10-time Grammy® winner George Benson; the funky soul sounds of Average White Band; the compelling, contemporary groove of Jeff Lorber Fusion; and Jason Miles' To Grover, With Love, a tribute to smooth jazz founding father Grover Washington, Jr.
Sunday, August 28 at 6 PM
BUY TICKETS